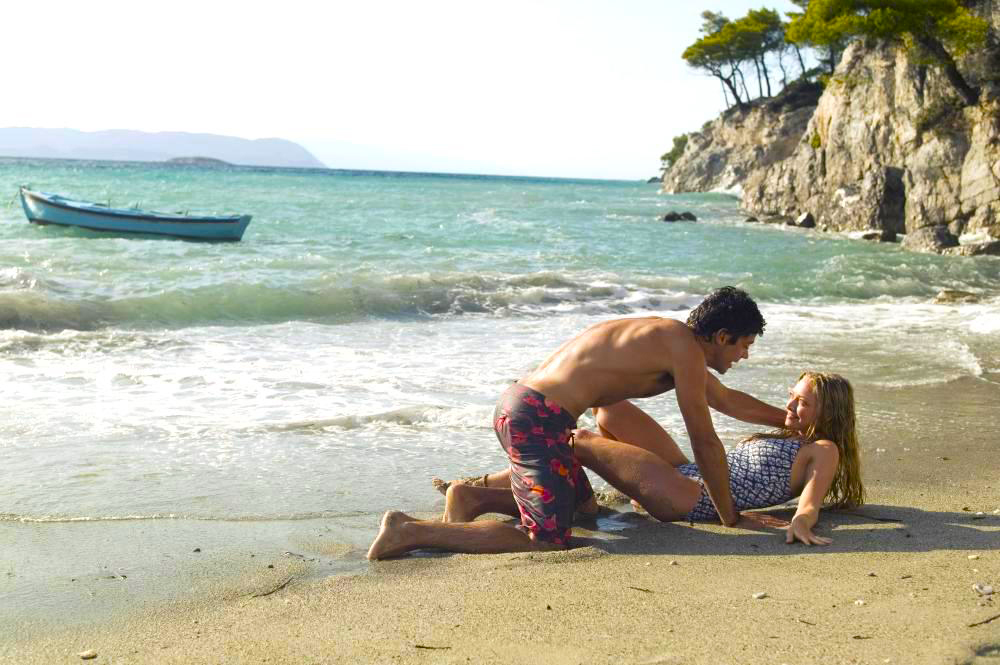 01Sep2016
Skiathos & Scopelos: MUST-VISIT "Mamma Mia! islands
Written byRenata Jirasova01 Sep. 2016
Do you remember the gorgeous scenery of the Greek island Kalokairi in the musical Mamma mia! where Donna (Meryl Streep) together with her doughter (Amanda Seyfriend) run their hotel Villa Donna? The name of the location was fictitious. In fact, part of this feelgood musical with legendary hits of the band ABBA was filmed in small Greek islands Skiathos and Scopelos.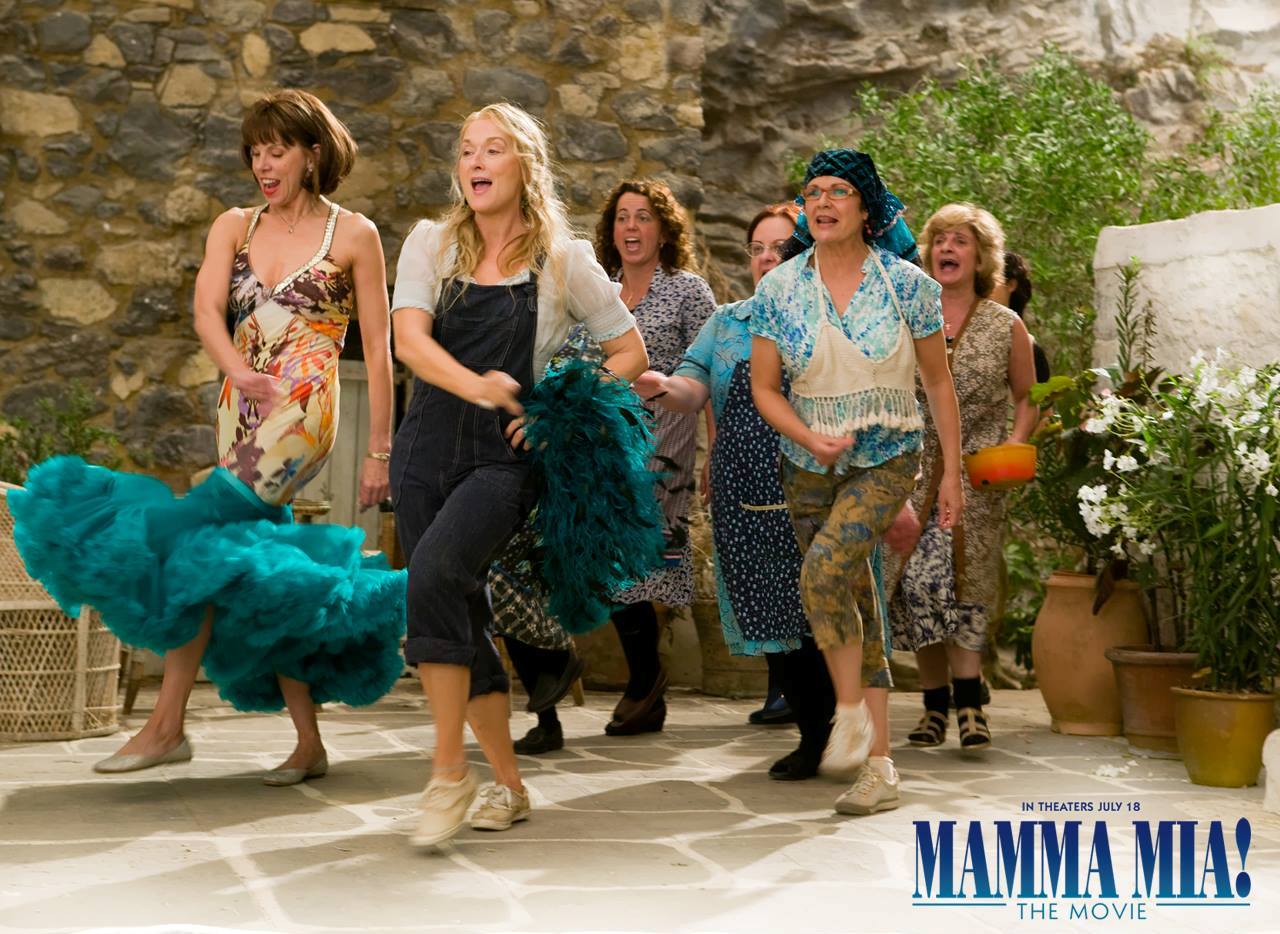 Although Mamma Mia! was made in 2008, the musical is still very alive in both islands. Not only numbers of boat trips in a rhytm of ABBA´s songs are offered but there is also a summer cinema in Skiathos town where Mamma Mia! is regularly projected 3times a week at 21:30. During the breaks, local actors dance and it gives the real oomph to the pleasant atmosphere at the cinema. It is fun experience to go there!
But if you like or dislike Mamma Mia! and ABBA´s songs, it doesn´t matter. In any case Skiathos and Scopelos are beautiful places for perfect summer holiday.
When to travel to Skiathos and Scopelos?
Since the islands Skiathos and Skopelos are located higher, in the northwest Aegean Sea, the summer season is shorter. At least for those who aren´t used to the cold. The sea is colder in September and also sometimes in August can rain a couple of days.
The most crowded is there around August 15th so if you want to have a peaceful holiday avoid two weeks around this date. The best time when to go there is at the end of June, beginning of July or at the end of August.

Skiathos Town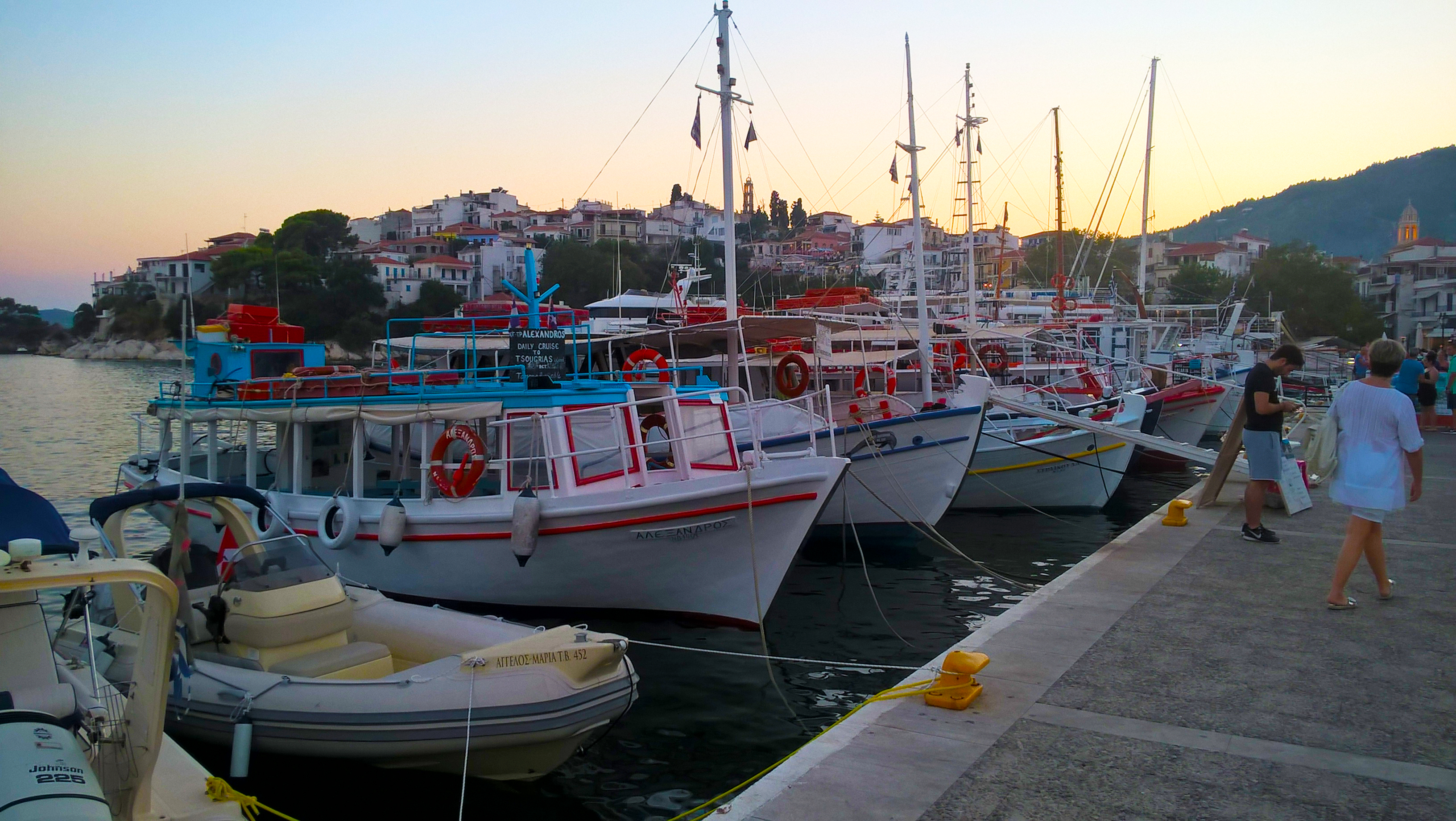 The Old Harbor in Skiathos town in early evening
How to get to Skiathos and Skopelos?
There is a small international airport Alexandros Papadiamantis in Skiathos. The shortest runway in Europe, which is right on the water´s edge, is a real tourist attraction. You can fly to Skiathos directly from many European cities (the flight takes about two hours).
Scopelos has no airport so first you have to fly to Skiathos and then to go by ferry to Scopelos. There are several ferries each day. The journey takes about 45 min. or 1 hour to Skopelos Town. Or you can go to Glossa port and it takes only 20-30 minutes.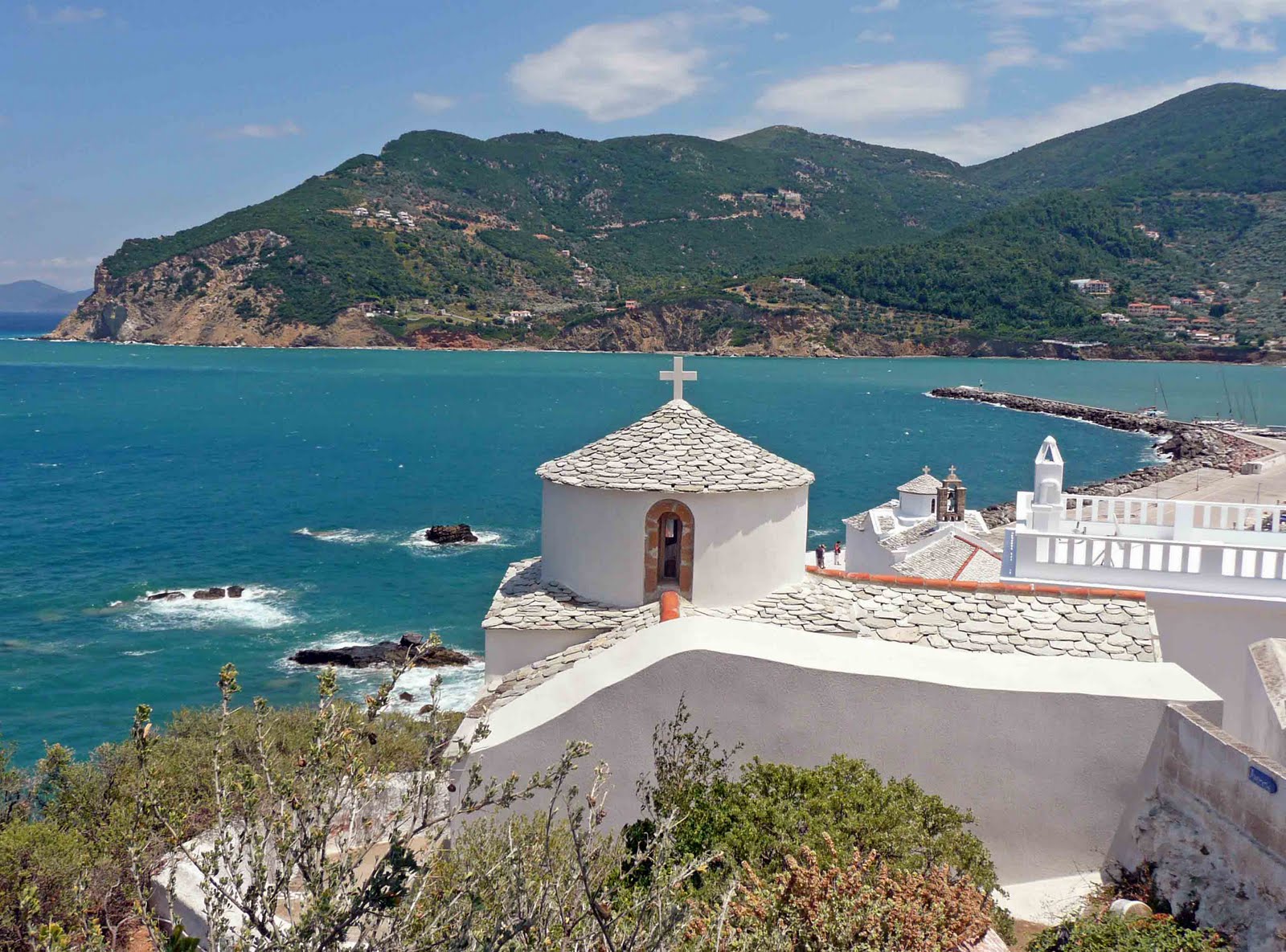 Scopelos - port
How to move in Skiathos?
Skiathos is just about 12 kilometres (7 miles) long and 6 kilometres (4 miles) wide so sporty enthusiasts can hike throughout the whole island.
On the south, where is the biggest concentration of beautiful beaches with gold sand, it is possible to use a public bus transport. A bus is going every 15 min. and a ticket cost about 2 Euro. Every station has a number (starting from Skiathos town – no. 1 to the last station Koukounaries – no. 25). This way you will easily move from one side of the island to the second one in 20-30 minutes.
In a high season buses are usually overcrowded especially in rush hours (around 7 pm) so it is more practical to rent a jeep or a four-wheeler. This way you will explore also beaches, monasteries and other places which are not easily accessible.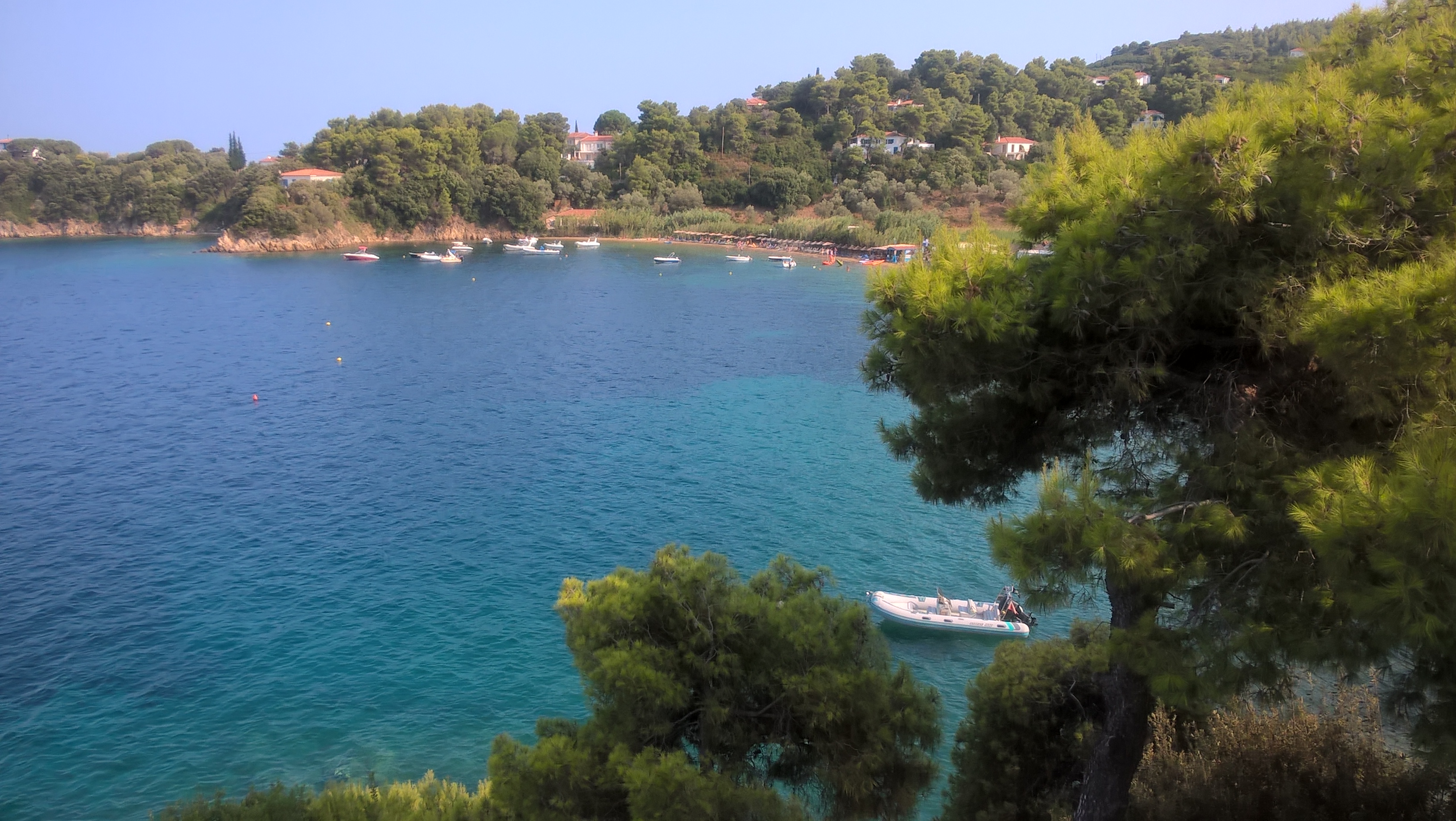 Skiathos - Cape Canapitsa.
The best places to visit in Skiathos
The Old Harbor and peninsula Bourtzi in Skiathos Town
Bourtzi is the little peninsula in town Skiathos which divides the harbor in the old part and new one. Bourtzi was built in 1211 by Venetian brothers Andrea and Jeremiah Ghizi, in order to protect themselves and the town of Skiathos from pirate attacks. The fortress was destroyed in 1660 when the Venetian admiral Francesco Morosini occupied the island. Today, Bourtzi is a romantic, green park with ruins of Venezian fortress, benches for sitting and nice cafe bar where you can enjoy spectacular sea view to the Old Harbor.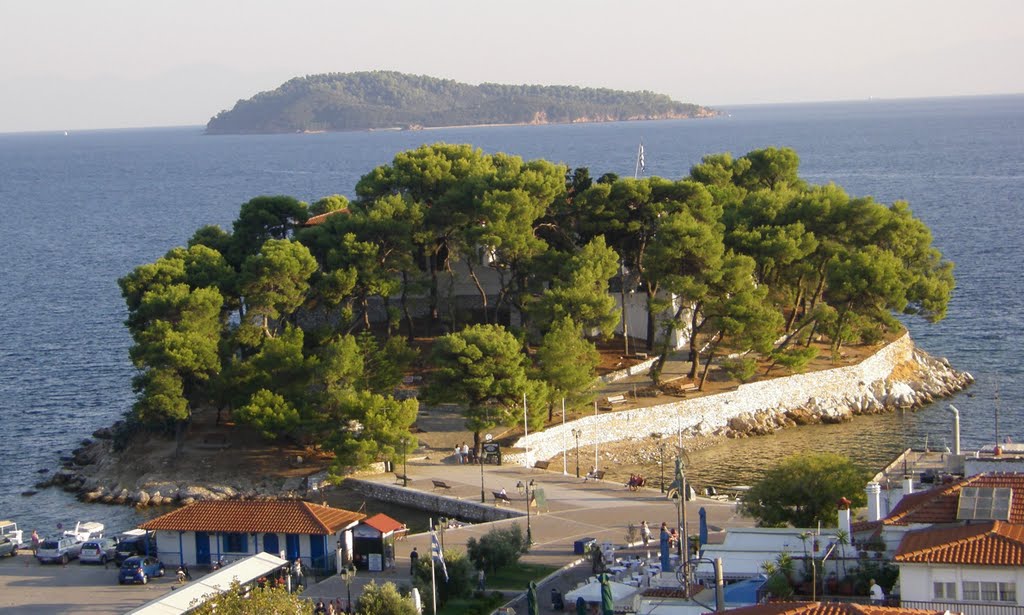 The peninsula Bourtzi with ruins of a fortress, Skiathos Town
The medieval settlement Kastro
Located in the northern part of the island, Kastro used to be the fortified settlement and capital of Skiathos in the medieval age. Was built on a rock, where it was possible to clearly monitor the surrounding seas, whether the approaching danger in the form of raiders and pirates. Today, in the ruins of the castle we can recognize a chapel, a church, a few houses, remnants of defensive walls, Turkish baths and drawbridge, and the components of defensive guns and cannons. Thanks to its location on a high cliff there is astonishing view of the surrounding area with beaches with grey pebbles, boats and the open turquoise sea.
There are two ways to reach the Kastro – by boat (The stop is on the beach with bar and the road up to the Kastro takes about 20-30 min.) or by car. But definitely you need a jeep or four-wheeler if you want to park at the Kastro parking place. The last 1,5 km of journey is leading through narrow, somewhere dusty, somewhere cobblestoned slippery path.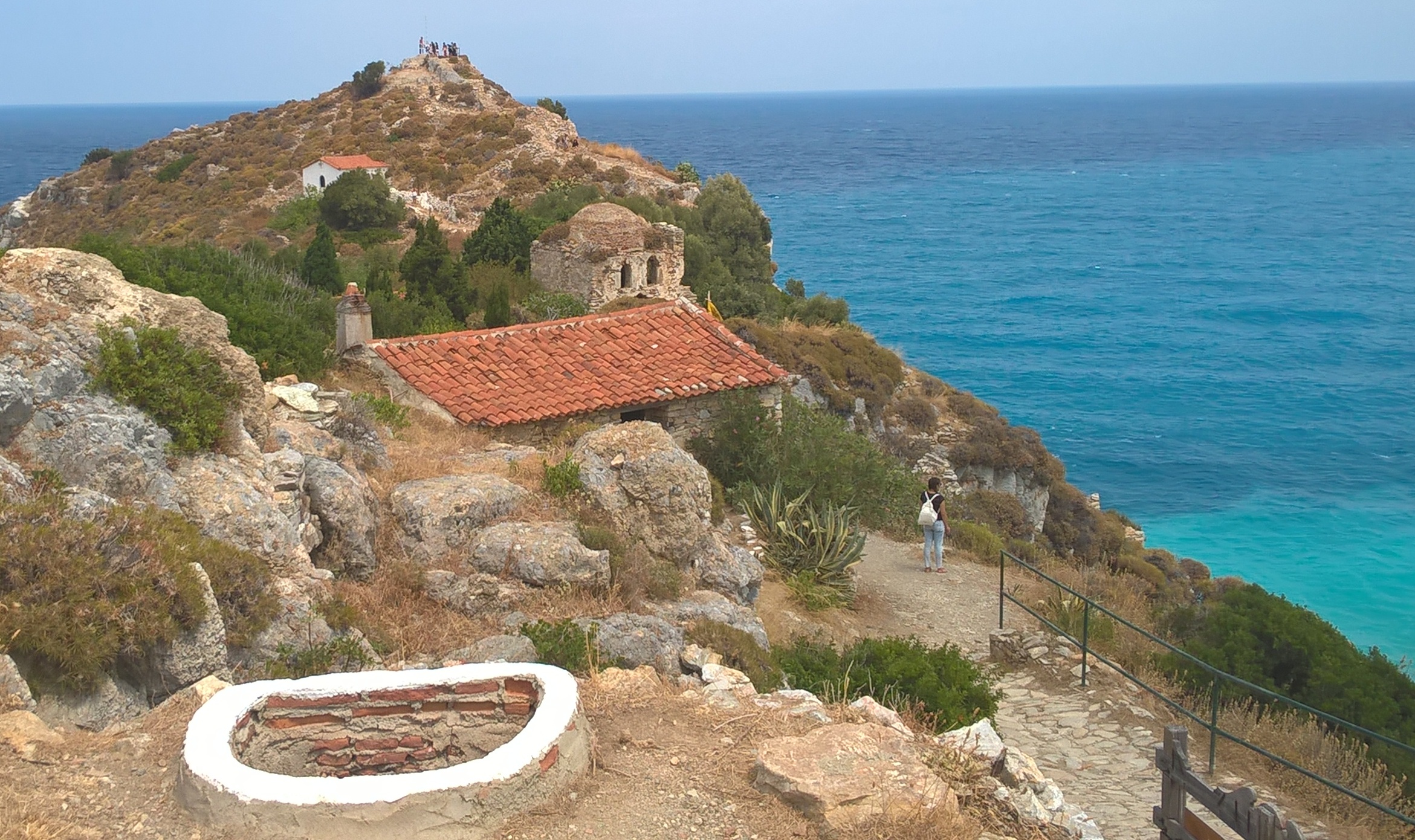 Kastro - the medieval fortified settlement and capital of Skiathos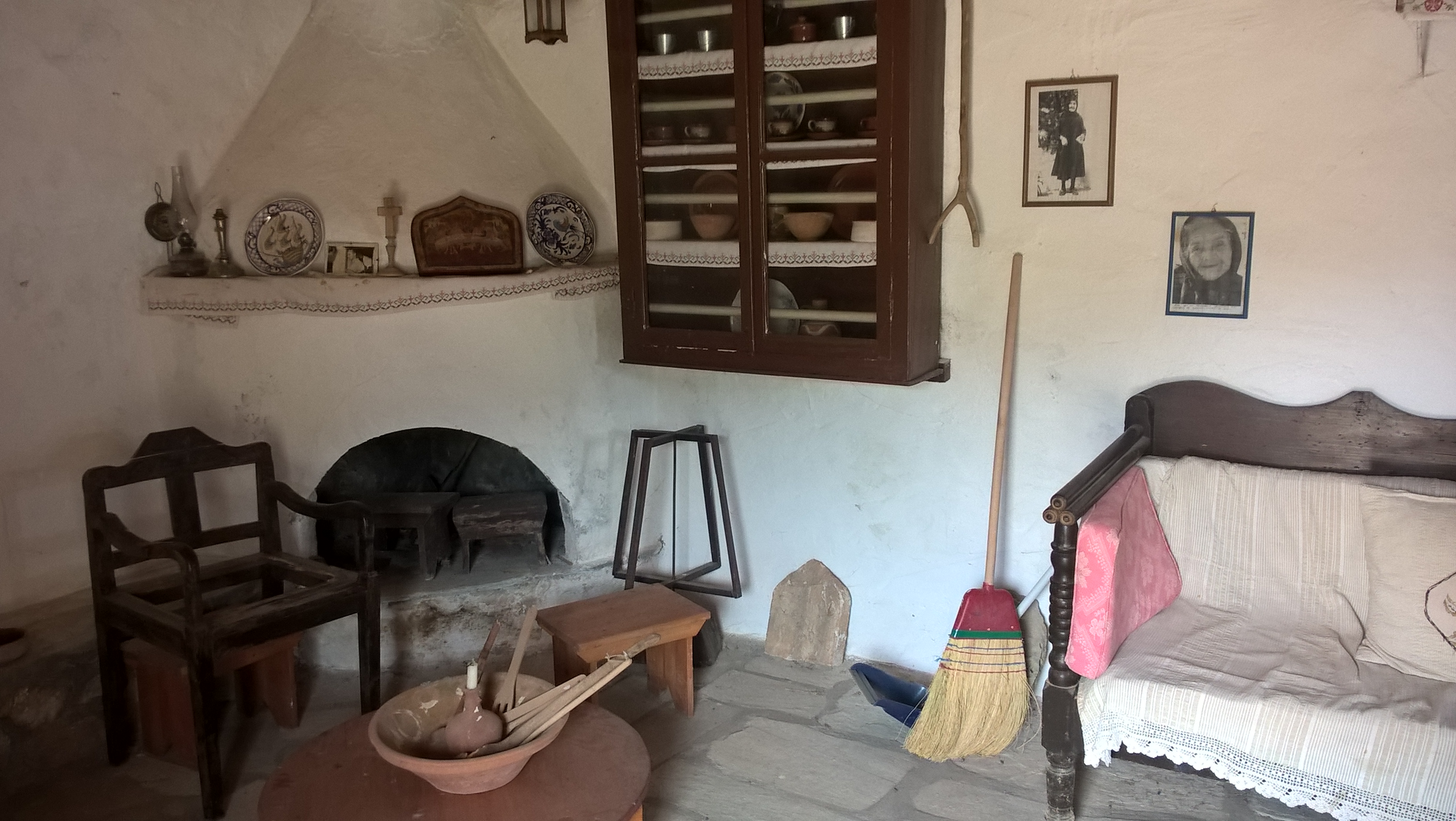 Kastro - the interior of a traditional house
Monastary Evanggelistrias
Located about 5 km (3 miles) north of Skiathos Town and surrounded by vineyards and olive groves, this remarkable orthodox Catholic Monastery was built by a group of monks who came from the Mount Athos at the end of the 18th century. It was used as a hiding place for refugees during the Greek War of Independence.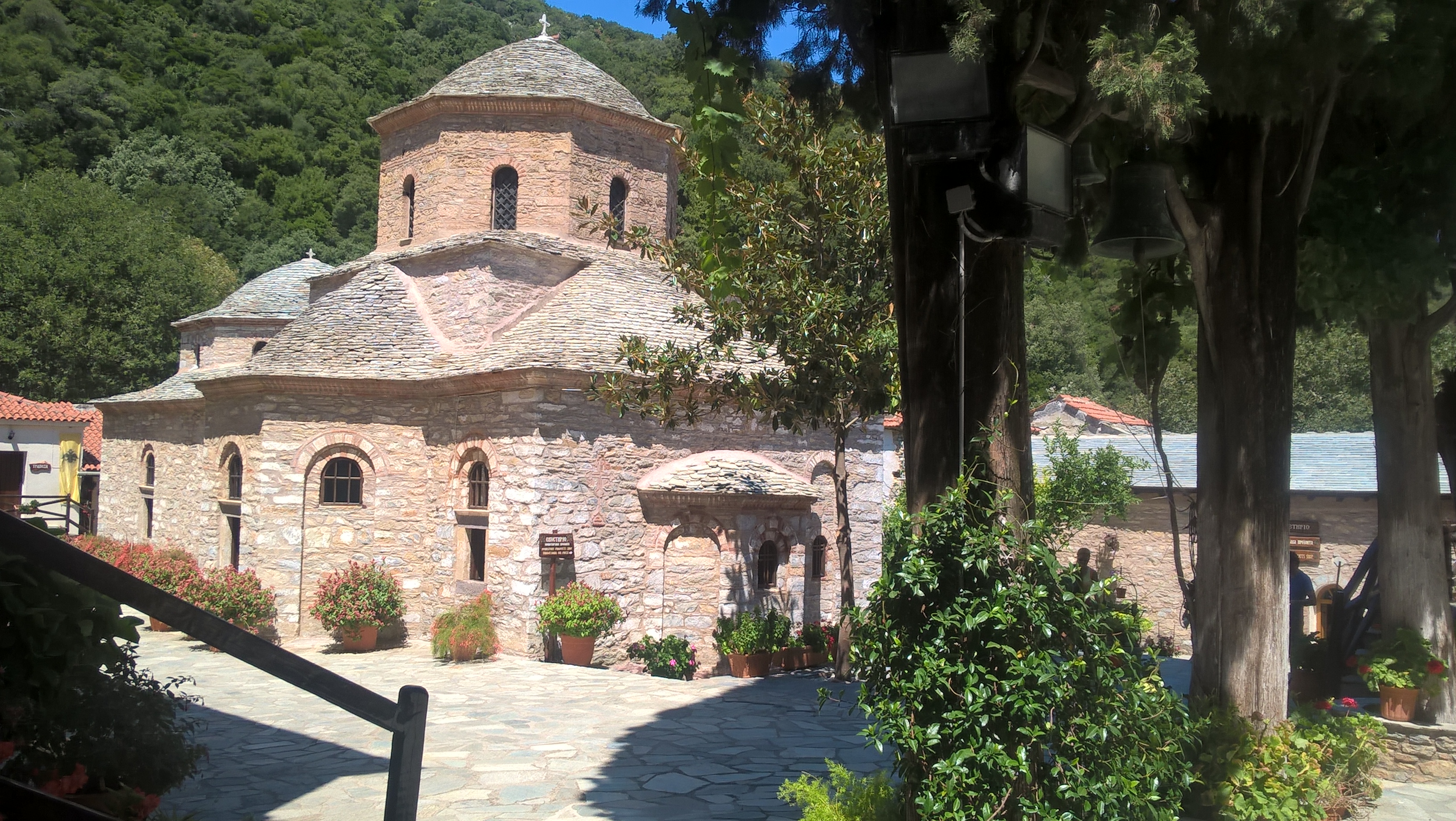 Monastery Evanggelistrias - one of the most remarkable, beautiful historic buildings in Skiathos island
Monastery Panagia Kounistria
Located in the middle of pine forest on the Western side of island, about 8 km (5 miles) from the Skiathos Town towards Kassandra Bay, the smaller but picturesque monastery with a soul, worth a visit.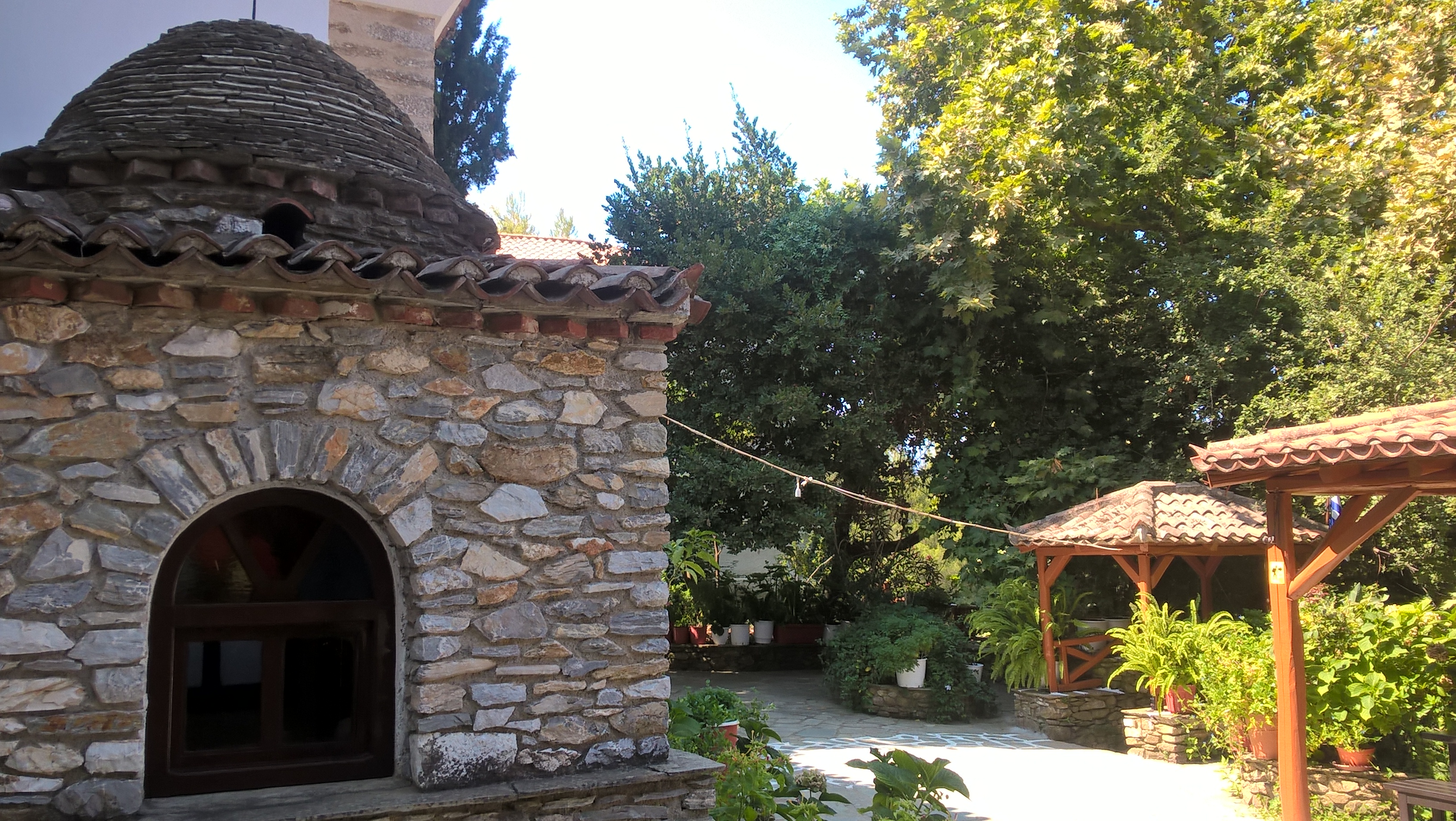 Monastery Panagia Kounistria - a lovely, smaller monastery with a soul in Skiathos island
The Dog shelter you will find next to the Monastery Panagia Kounistria. You may visit and take one of the dogs for a walk from 9 am to 1 pm. Also you can adopt a dog or contribute financially. The shelter has been managed by the British volunteers since 1995.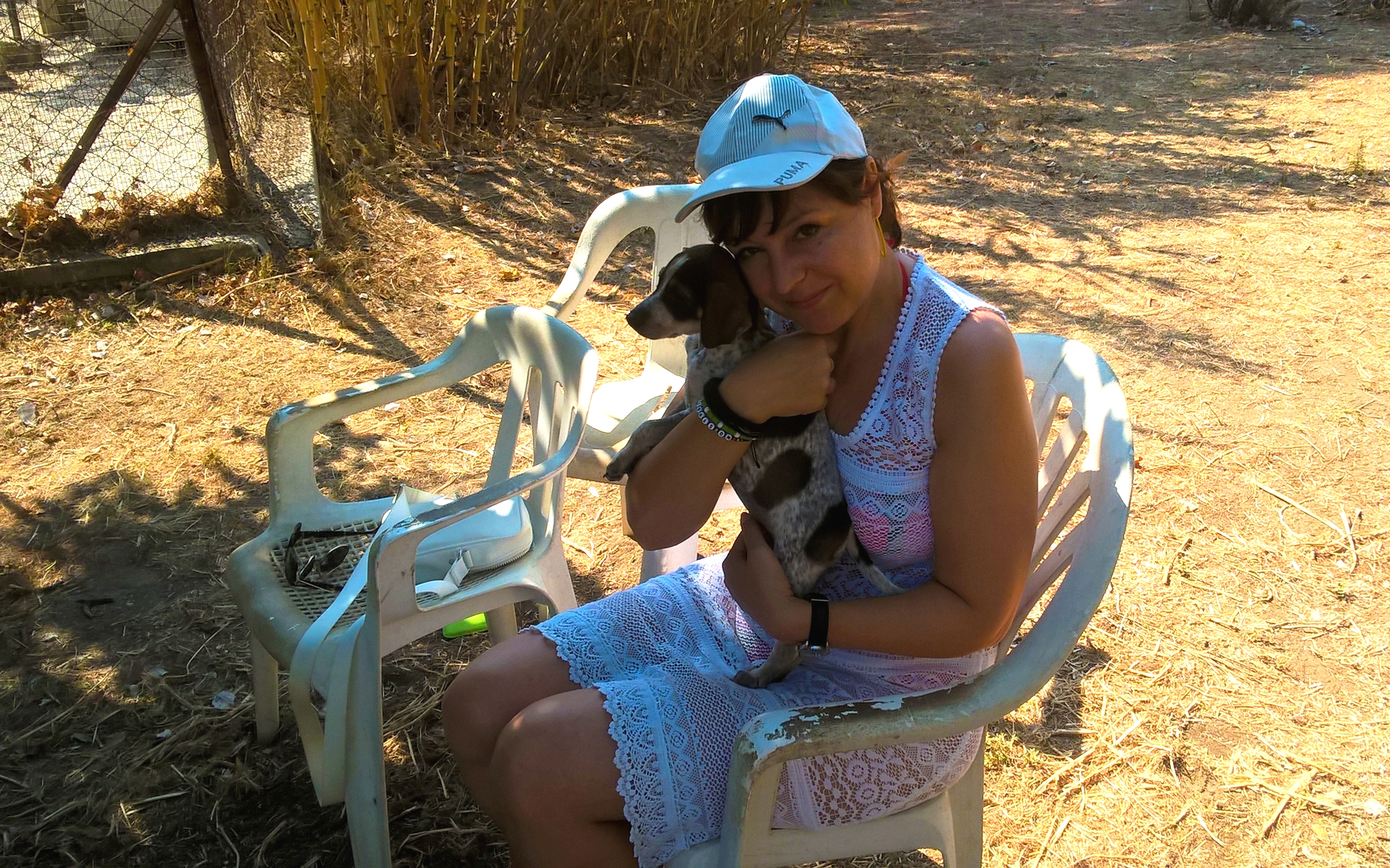 Dog shelter - "orphanage" - managed by the British volunteers in Skiathos island. You can "borrow" a dog and take him for a walk. Or even you can adopt a dog and take to your home.
The best beaches in Skiathos
The beach Lalaria with grey pebbles, rocky arch and turquoise colour of the sea is one of the most beautiful and the most photographed beaches in Skiathos. It is located on the north, near Kastro and accessible only by boat.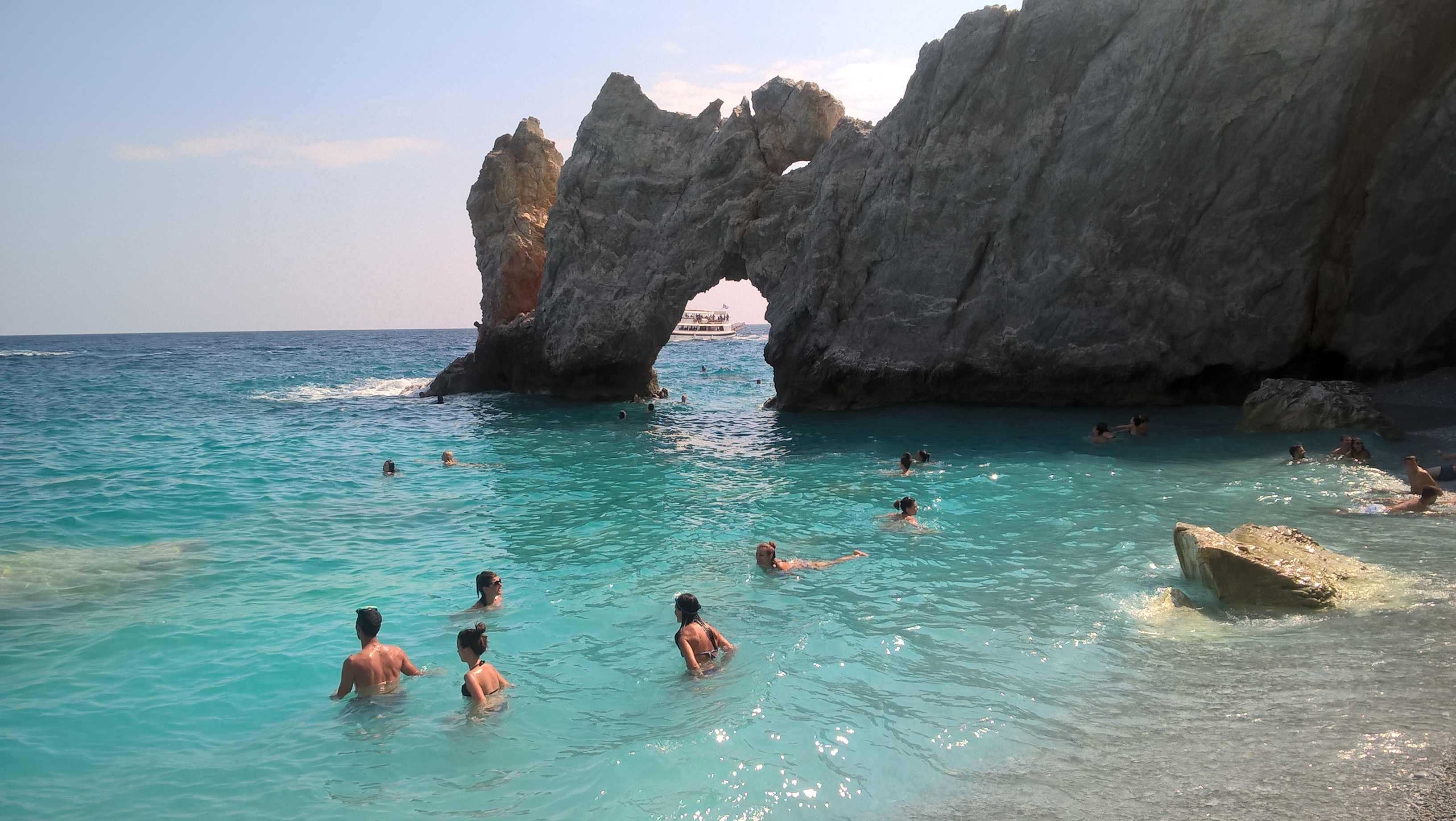 The long Agia Paraskevi beach with very soft, gold sand is located in the middle of southern part of island. It is easily and quickly accessible either by bus or car.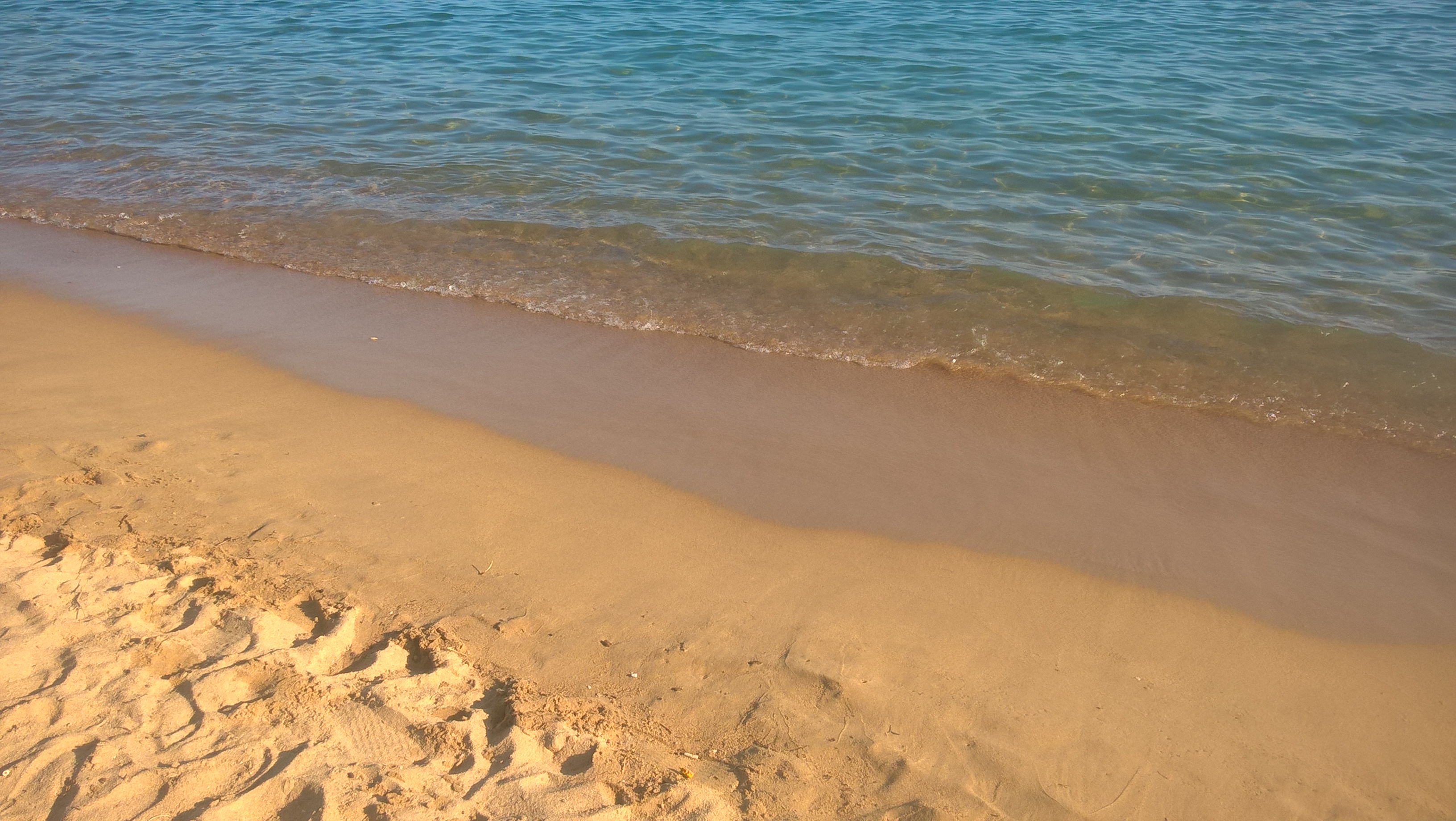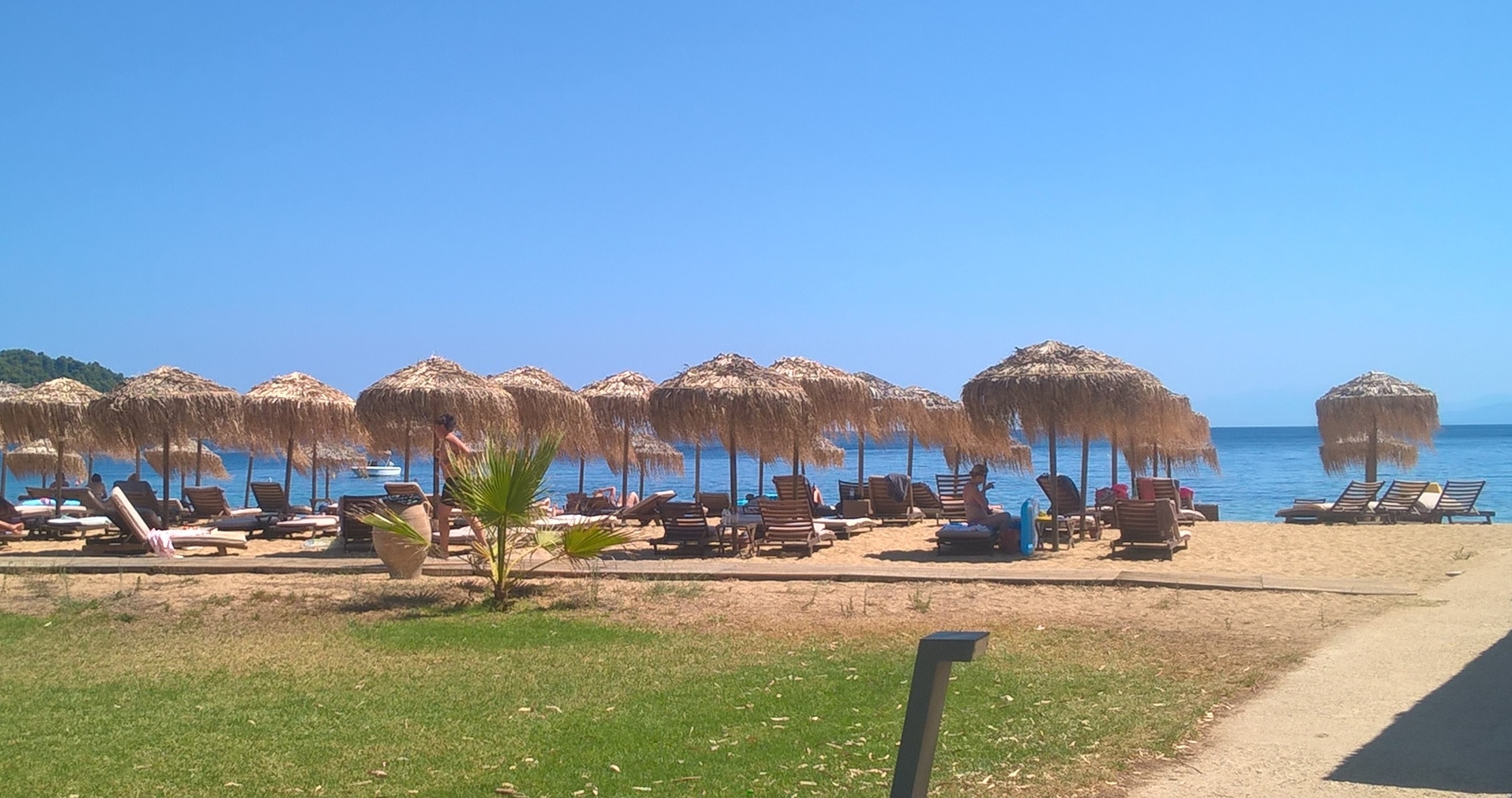 beach Agia Paraskevi, a very quiet in front of the Princess hotel*****
Thanks to the very nice music beach bar (RnB, hip-hop, electro, pop, pop-rock...), Aghia Eleni is popular especially among young people. The beach is spacious so people who prefer peace can find their quiet place at the end of the beach between rocks. The sea is clear like a crystal and taste of the frapé at the bar is incomparable! Aghia Eleni is located on the south-west, near Koukounaries, bus station no. 24 (and then 1 km walk or better is to go by car).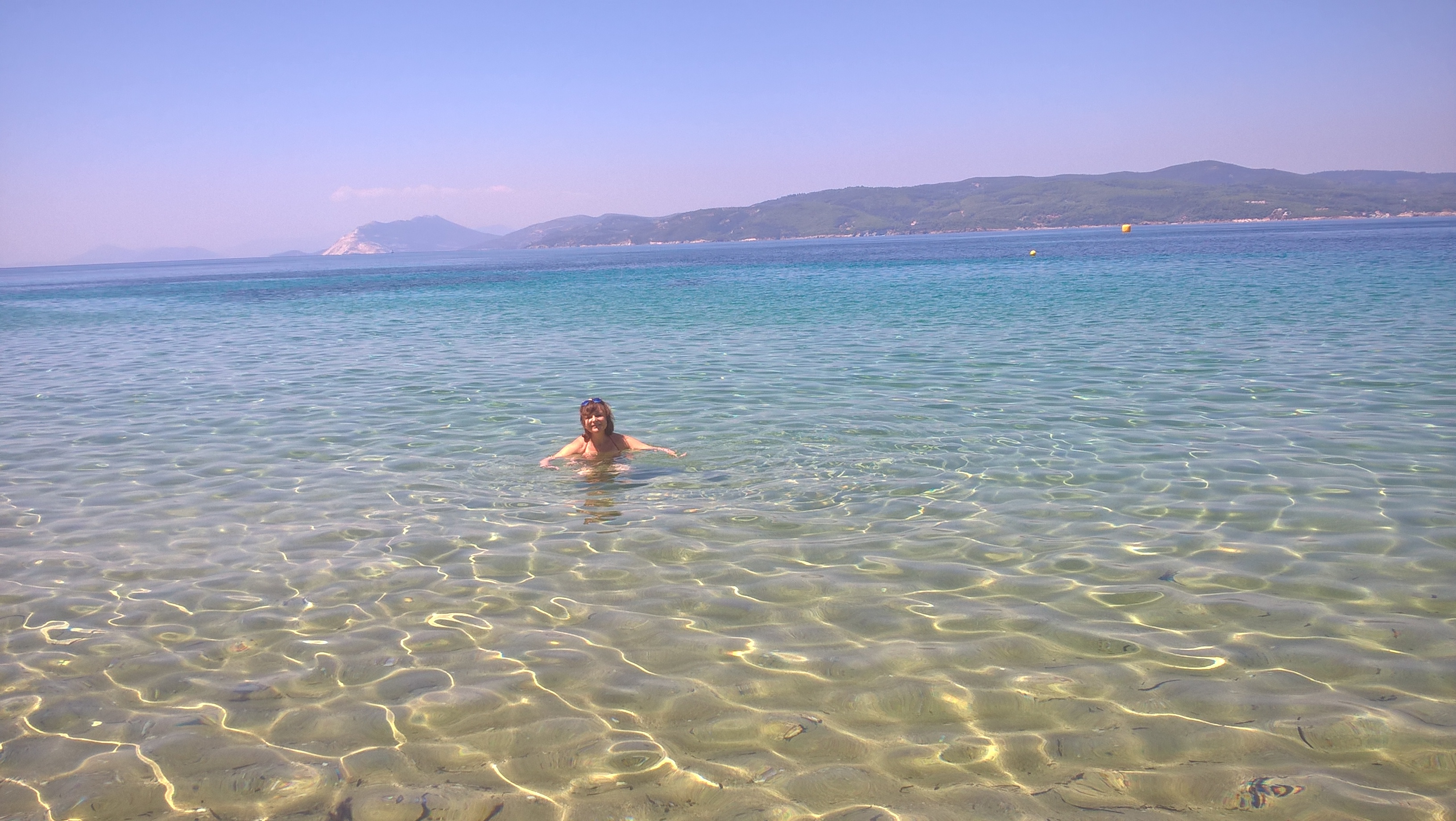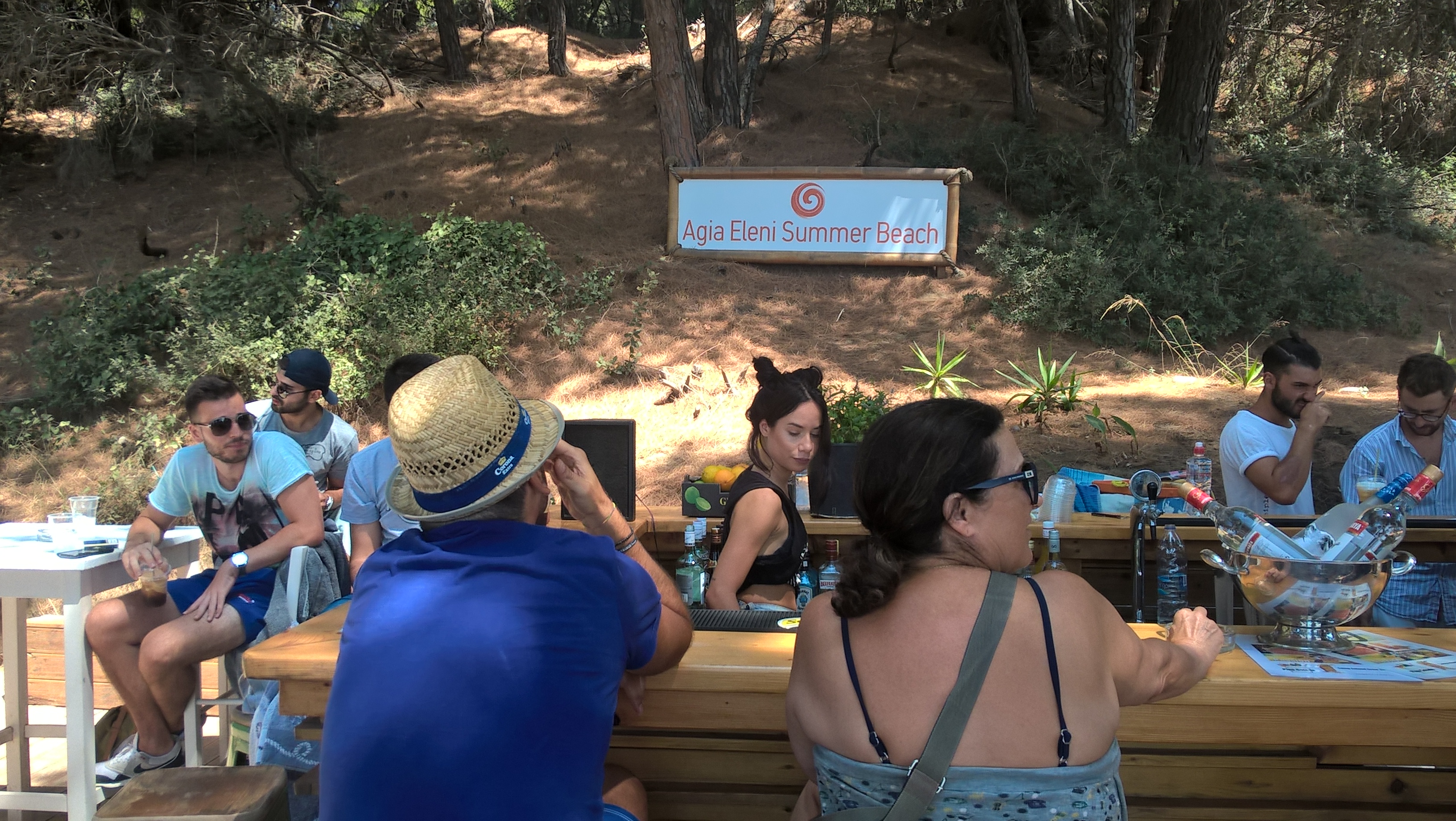 Little Banana Nudist beach
Little Banana is a lovely, quiet beach for adults, without music, primarily for naturists but who is shy can be clothed. There is a beach taverna with excellent food and very clear, beautiful sea. Littlle Banana is located on the south-west of Skiathos. If you don´t have a car it is quite demanding walk there (the nearest way is from the bus station no. 24 or 25).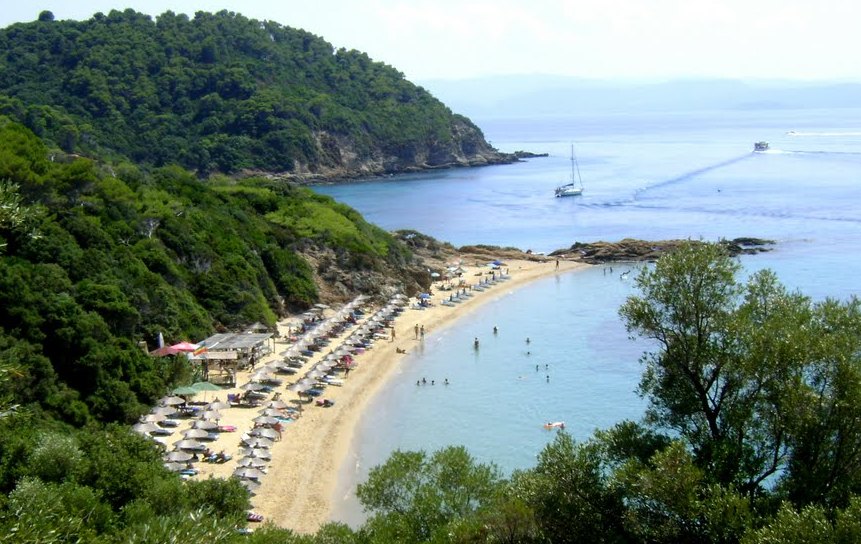 Meghali Aselinos is a quiet, sandy beach with a nice taverna, beds and umbrellas for rent. It is located on the north-western part of Skiathos and reachable only by car. The beach is beautiful but the minus is that there is usually windy.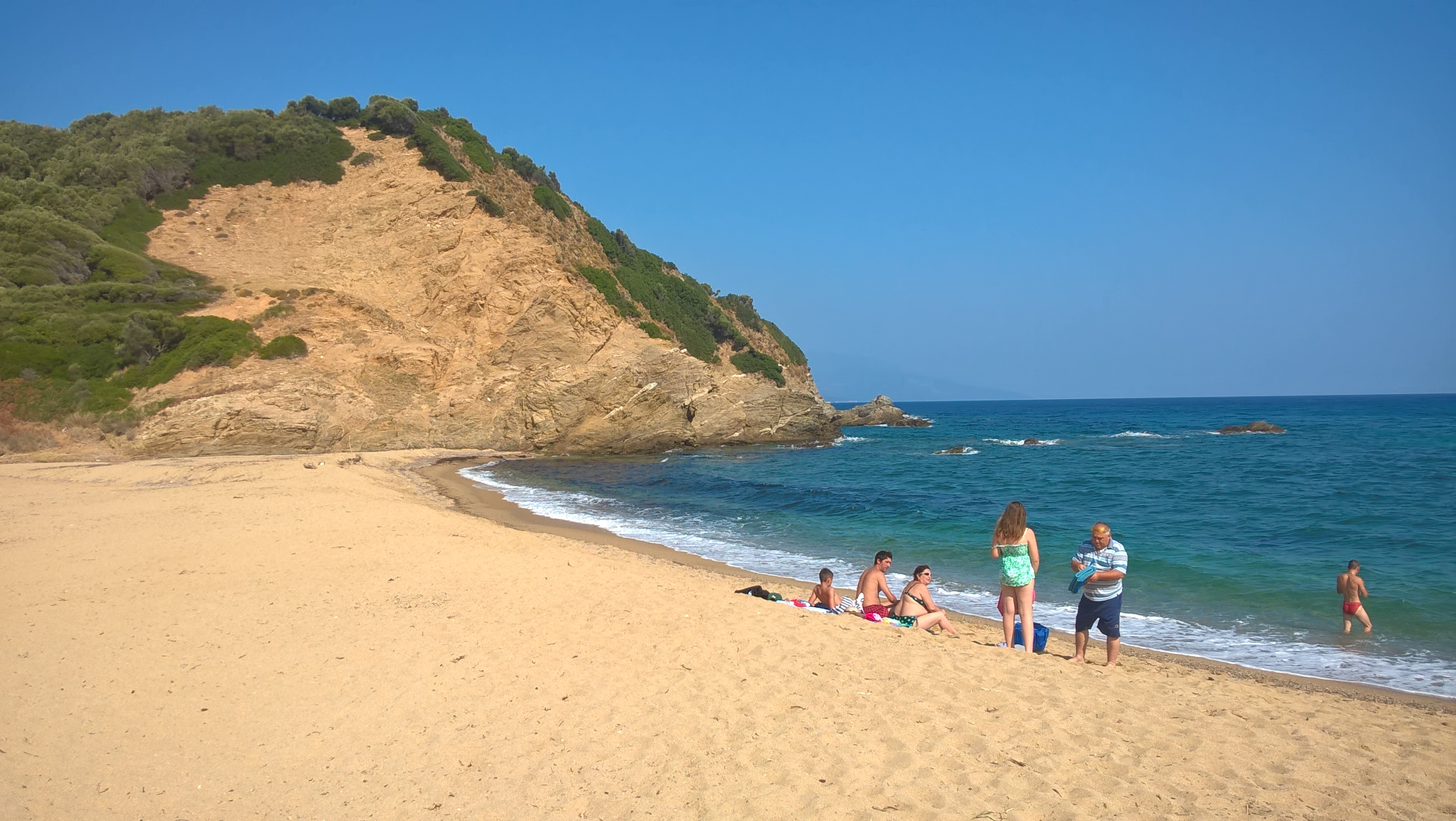 Located on the north of Skiathos, Kastro beach with grey pebbles and stones is reachable only by boat. From this place you can walk up (about 20 min.) to see the ruins of the medieval settlement Kastro. Or you can relax at the beach bar with a frapé!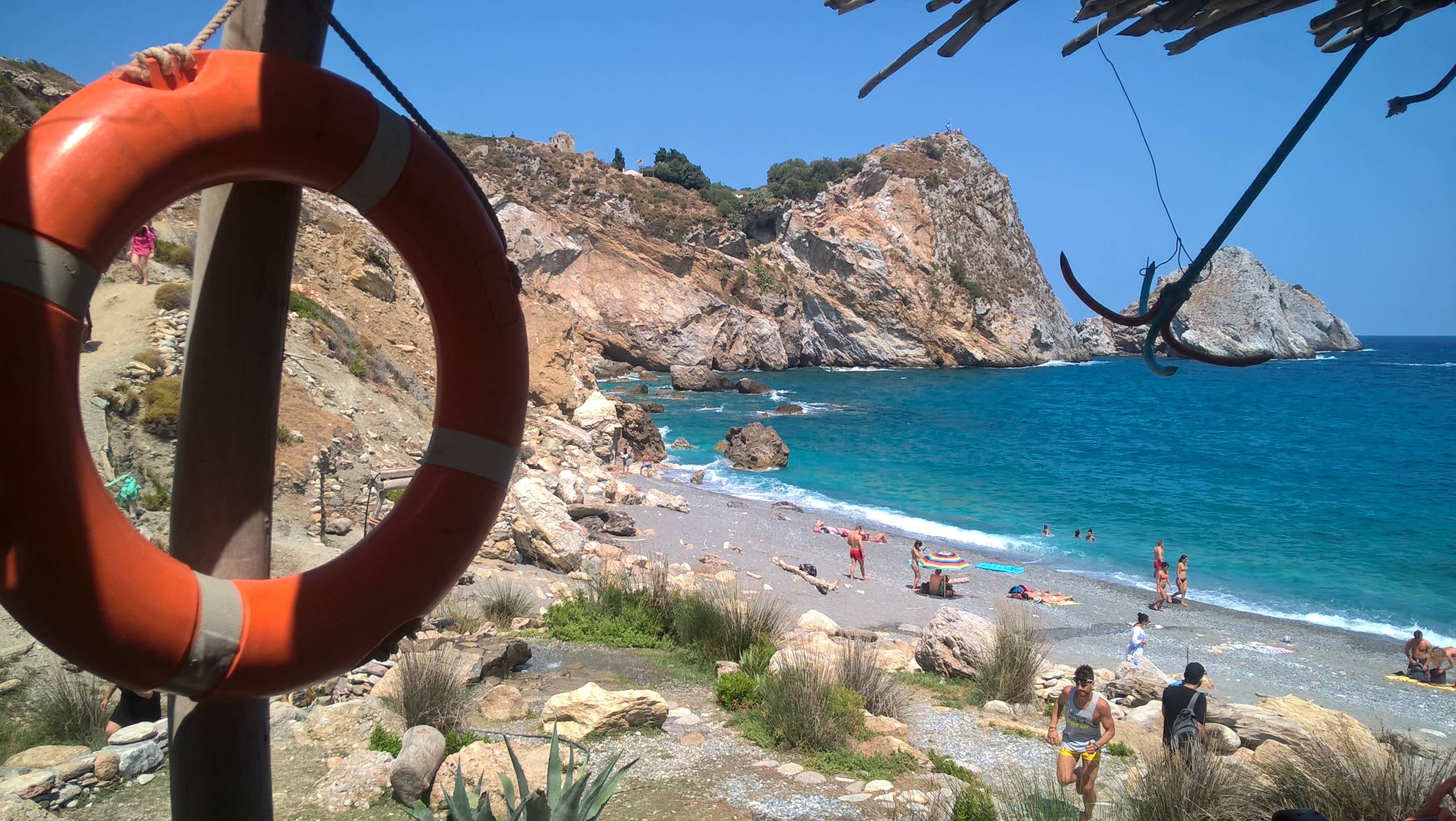 The Kastro beach view from a bar.
5 best approved restaurants in Skiathos
Kanapitsa Greek Restaurant beach bar, Cape Kanapitsa (near hotel Plaza)
Pizzeria Boubounakia, Agia Paraskevi
Johny´s taverna, Cape Kanapitsa
Mylos Old Mill, location on the water's edge on the airport road
Ta Psaradikia, Skiathos Town (Old Harbor)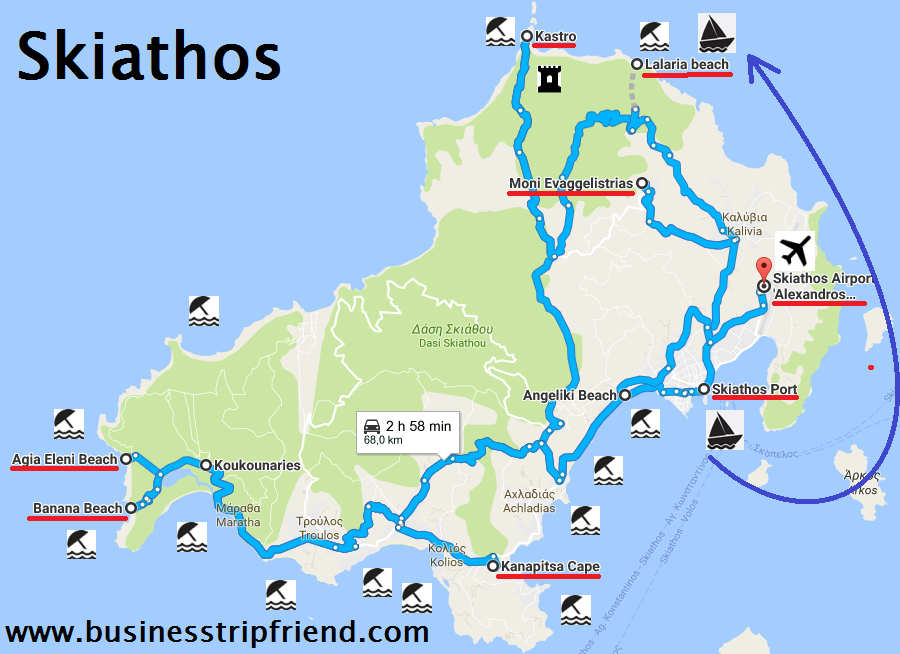 Would you like to explore other wonderful places in Greece?
Here you will find 100 TIPs what to do in Greece - for reading of the article click here.
---
---