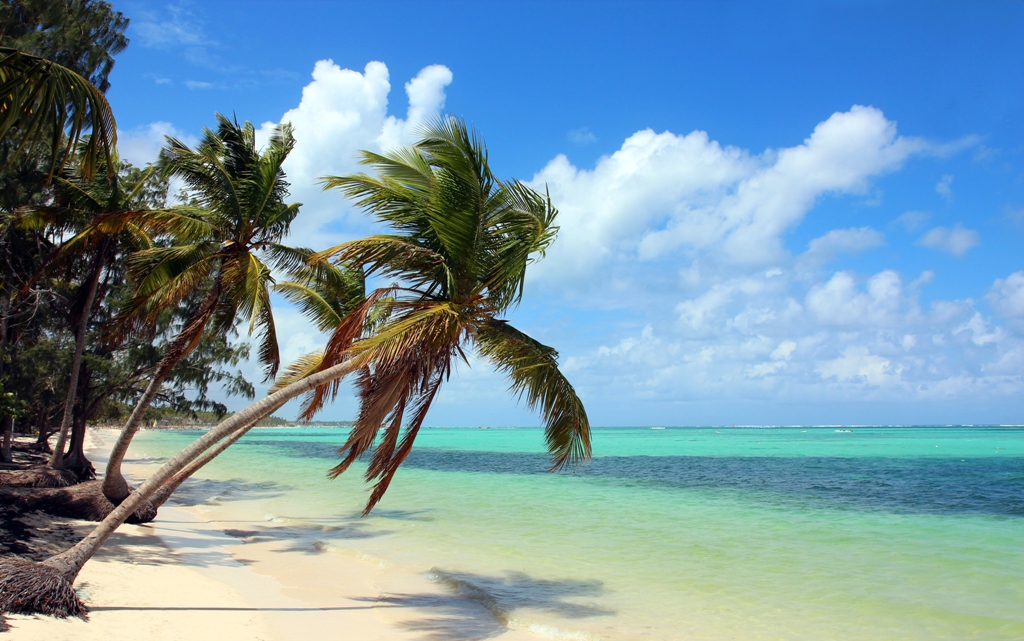 15Jan2017
14 adventurous days in Dominican Republic
Written byMartin Jirry Jiras15 Jan. 2017
This year I broke a stereotype! Instead of a classical summer holiday at the sea I decided to enjoy warmth and sunshine in winter; in the period when Europe suffers from frost and darkness. What a tempting idea to escape from freezing, foggy weather at least for two weeks!
But where to go? After analyzing the situation me and my friends decided for the tropical Dominican Republic. We have visited 4 destinations there – the capital city of Santo Domingo, Boca Chica, the famous Punta Cana and Puerto Plata. And may you be surprised but each of these destinations are really completely different! From which point of view? Just scroll down and read it.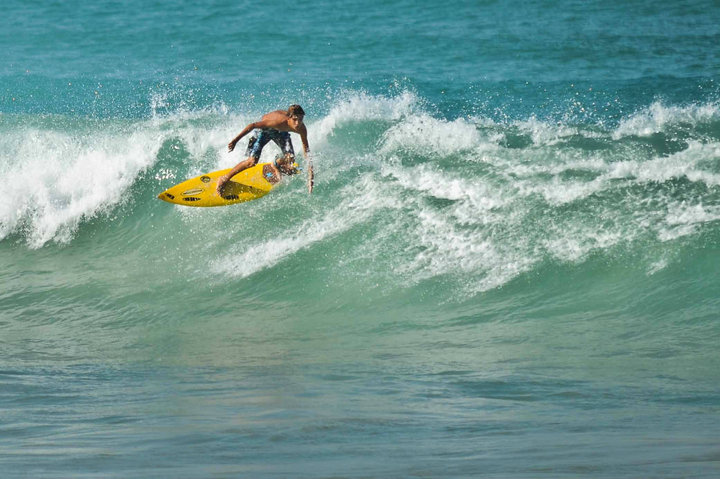 Watersports in Punta Cana
Travelling
In order to get inexpensive tickets we bought them already 6 months in advance. But, as usual if the tickets are cheap, the flight was somewhat long and complicated. We flew from Prague to Rome, where we stayed one pretty night with great food at the Golden Tulip airport hotel. I can highly recommend this hotel for travellers because there are great huge rooms and the distance from airport Fiumicino is just 15 min by hotel´s transport. And then - before us was the longest flight Rome - New York and then NY to our final destination – San Domingo, Dominican Republic.
Arrival to Santo Domingo
After landing to Santo Domingo at midnight it happened what we a little bit expected - Delta Airlines left all our luggages in New York! But fortunately already next day we could pick them up at the airport.
Much worse thing, but also somewhat funny, was that we had booked our apartment via Airbnb.com in the village Boca Chica which is located at the southern sea side (just about 20 min. by car from the airport). The host didn't give us the exact address, in our instructions was only written that our apartment is situated "in a huge street" :-). So you can imagine...
It was 2 am, we were in an unknown country, jet-lagged after so long flight and our somewhat desperate taxi driver was looking for "some huge street" in Boca Chica :-). We were in the middle of nowhere and the situation didn´t look optimistic at all. Pretty nice welcome, huh! It already seemed that we will be homeless but luckily, after a few hours of searching (!!!) we finally discovered our "dreamed accommodation".
Boca Chica
This part of the country is really only for those who want be experienced by the real shit of Dominican Republic :-). In the daytime it's a boring village. There are mostly just locals and beaches aren´t too good. And even a nightlife is nothing special. It's quite a noisy and dangerous area. Loud music, prostitutes/sluts/whores everywhere, pimps, barkers to the beach, parking places etc...
What was really funny it was an "El bar". It looked like a normal bar with a nice interior and good drinks, but full of white older men waiting for their "Dominican love". And their "loves" were sitting and waiting for them at the bar. For those, who are interested in some kind of these services, price was around 50-80 USD/hour (lol).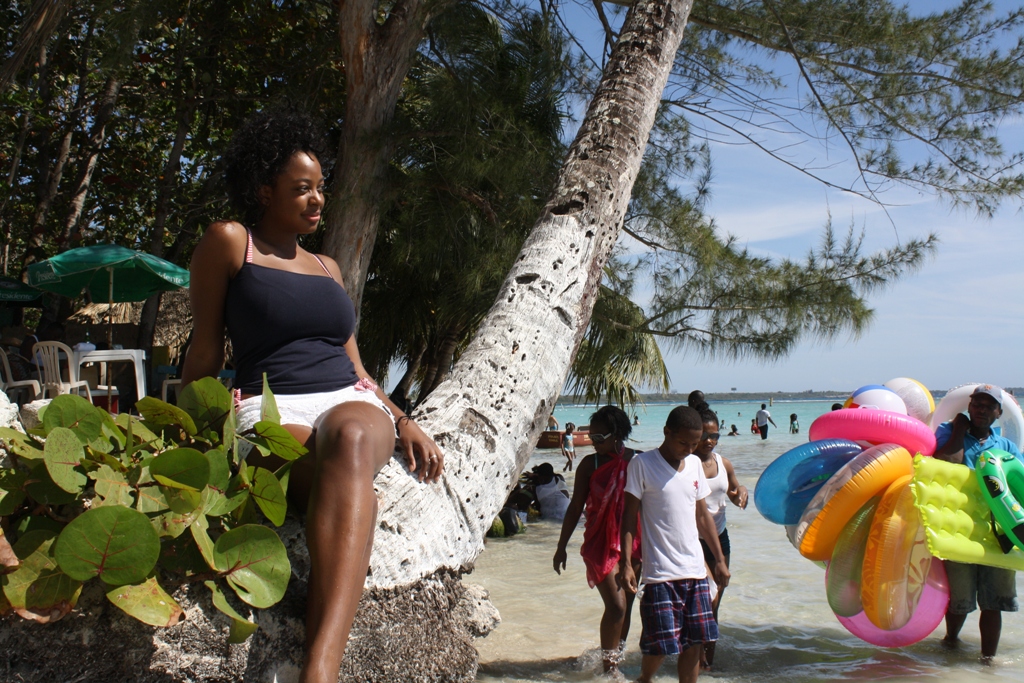 The beach in Boca Chica with locals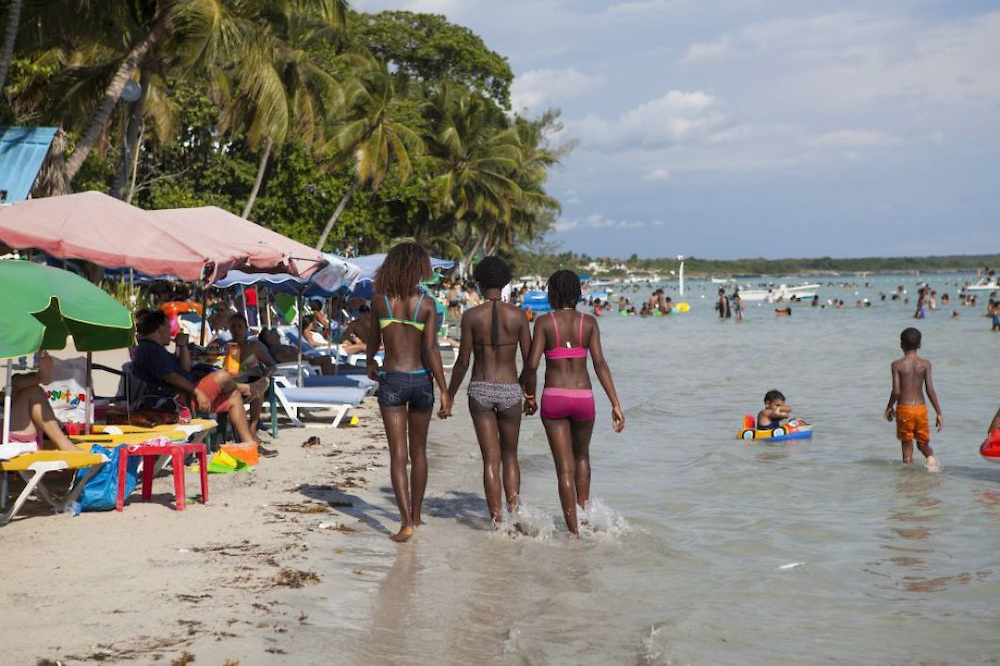 Boca Chica & locals
Santo Domingo
The second day of our stay in Dominican republic we rented a car and decided to explore the capital Santo Domingo. Driving there was a real huge experience for us, because there are usually no dividing lines on the roads and drivers don't keep any traffic rules. We've found that the best way is just to look in front of us, drive and have prepared a hand on a horn, because the horn is the thing you really need there!
Santo Domingo has an old part and new part. First we have been in the new part where we visited a shopping mall. It it was a very modern place, full of visibly well-situated people. After 48 hours in this country it was for us finally like "be in civilization", if you understand me.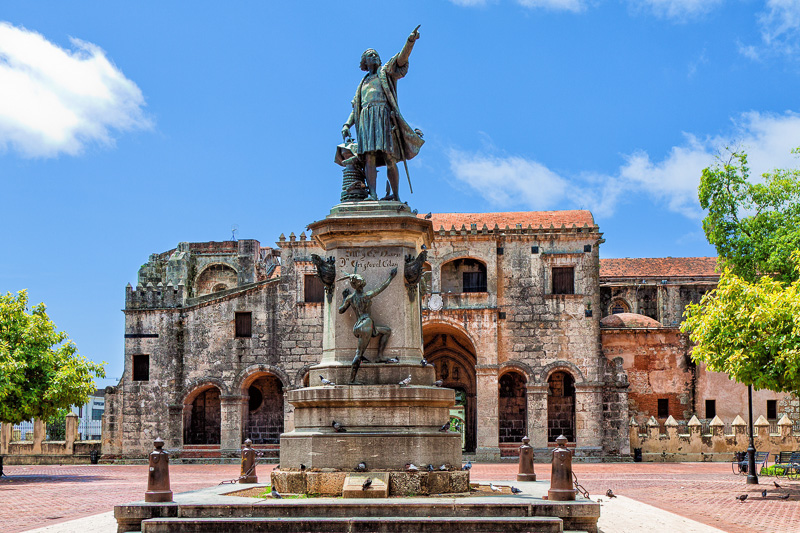 The statue of Christopher Columbus in Parque Colon, the central square of the Ciudad Colonial, historic district of Santo Domingo
Next day we visited Santo Domingo again, but the old part and it is really a nice town, full of small streets, monuments, nice historical buildings, squares etc... We have've visited a typical Dominican restaurant where waiters didn't speak English, of course, but luckily my Espaňol lengua from univerzity was enough :-). And the food was great, usually everywhere you can have a mixture of Mexican/Spanish food, sea food and also steaks. For drinks we took beer El Prezidente light – I must say that it's really good beer and since I´m a Czech (beer is our national drink) you can fully trust my judgement.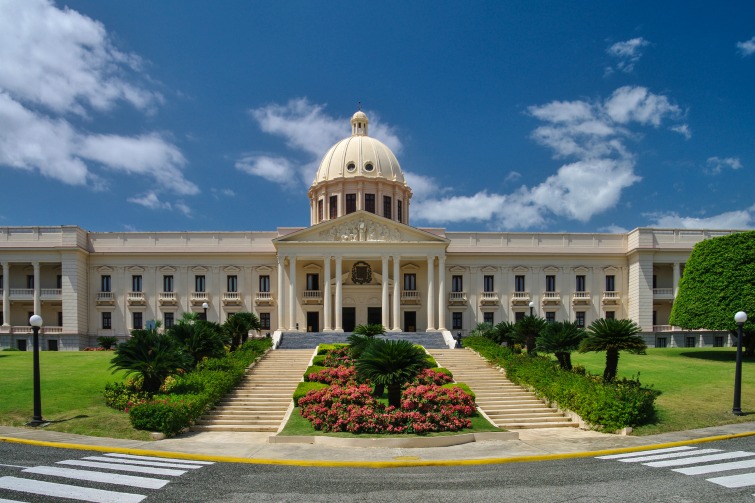 National Palace, Santo Domingo, Dominican republic
3 days in typical Dominicans cities are over and we are going by our small Kia Picanto to the typical turistic place – Punta Cana!
Punta Cana - Bavaro
Already when we were approaching Punta Cana it was obvious that's absolutely something different than what we saw in Santo Domingo and Boca Chica. Here are incredibly huge resorts, maybe the biggest ones which I'have ever seen. But they're cosy, at maximum 3floors buildings, not any skyscrapers. We have lived in Retiro Bavaro apartments again via Airbnb.com, but now the service was wonderful, everything was ready as it should be, finally we had a wifi connection etc. The position was excelent too, because it was at maximum 5minutes by walk to a nice and clean beach which was long around 20km, so it was not crowded at all.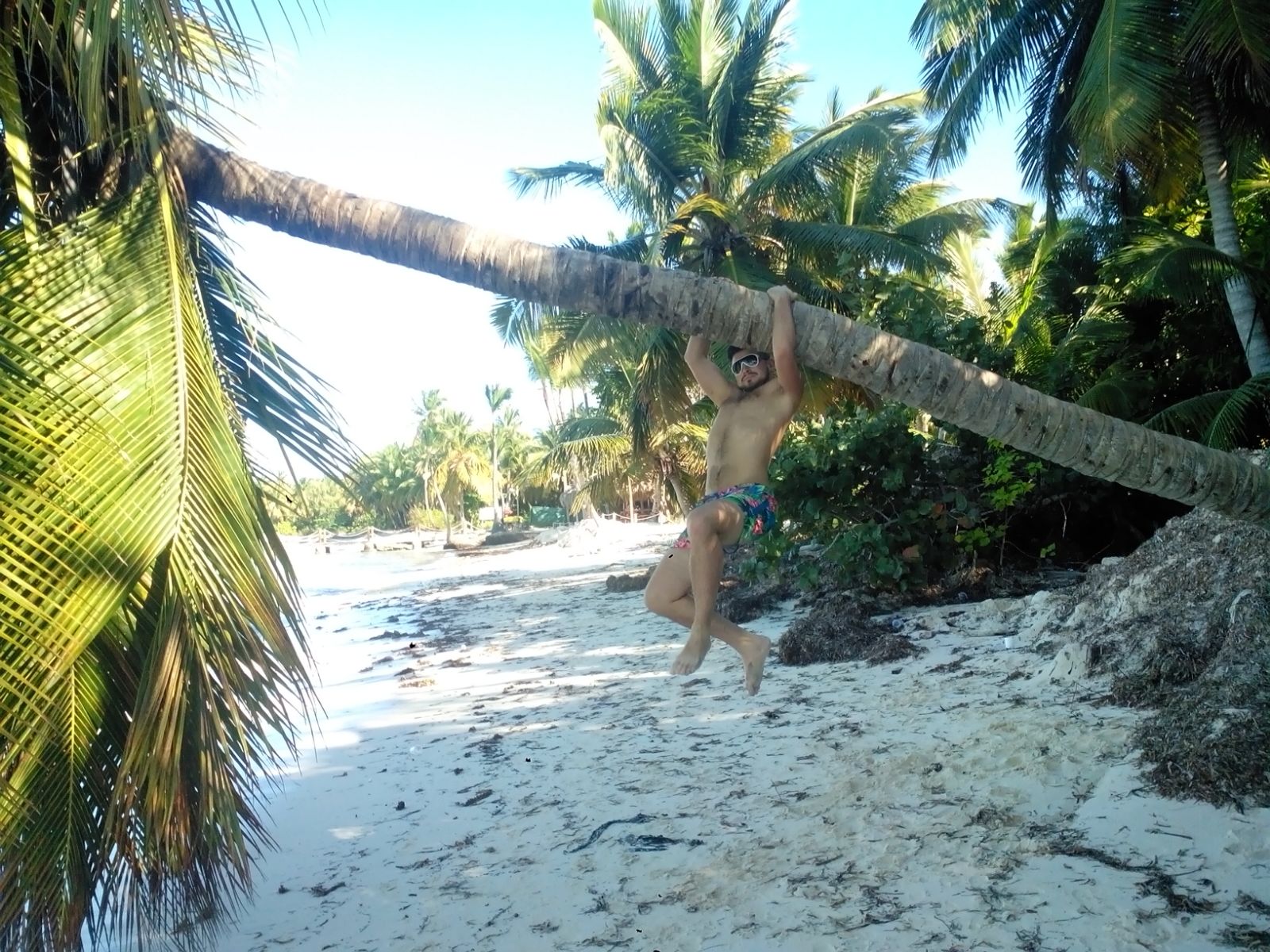 In Punta Cana - Bavaro
Punta Cana is a typical beach vacation resort, built around 2006. It's obviously new because a lot's of buildings aren´t finished yet. Here's also a big potencial for investors, I think, because a tourism is still in development and apartments are quite cheap to buy.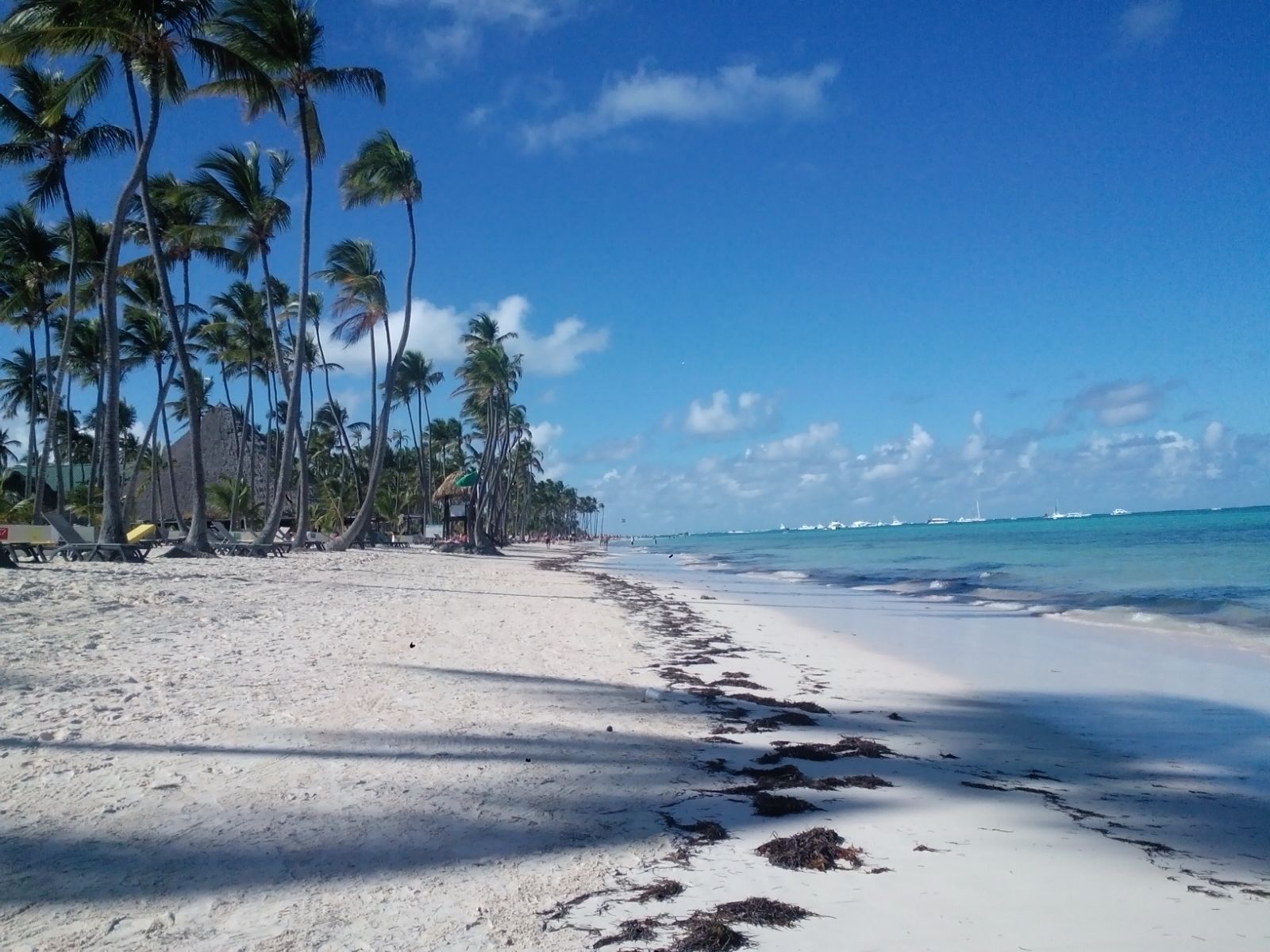 Punta Cana
Nightlife in Punta Cana
We're young, so we also want to party! Here's Coco Bongo club which is focused on their performence shows, lots of dancers, lots of performers and some kind of Spanish and also worldwide disco music.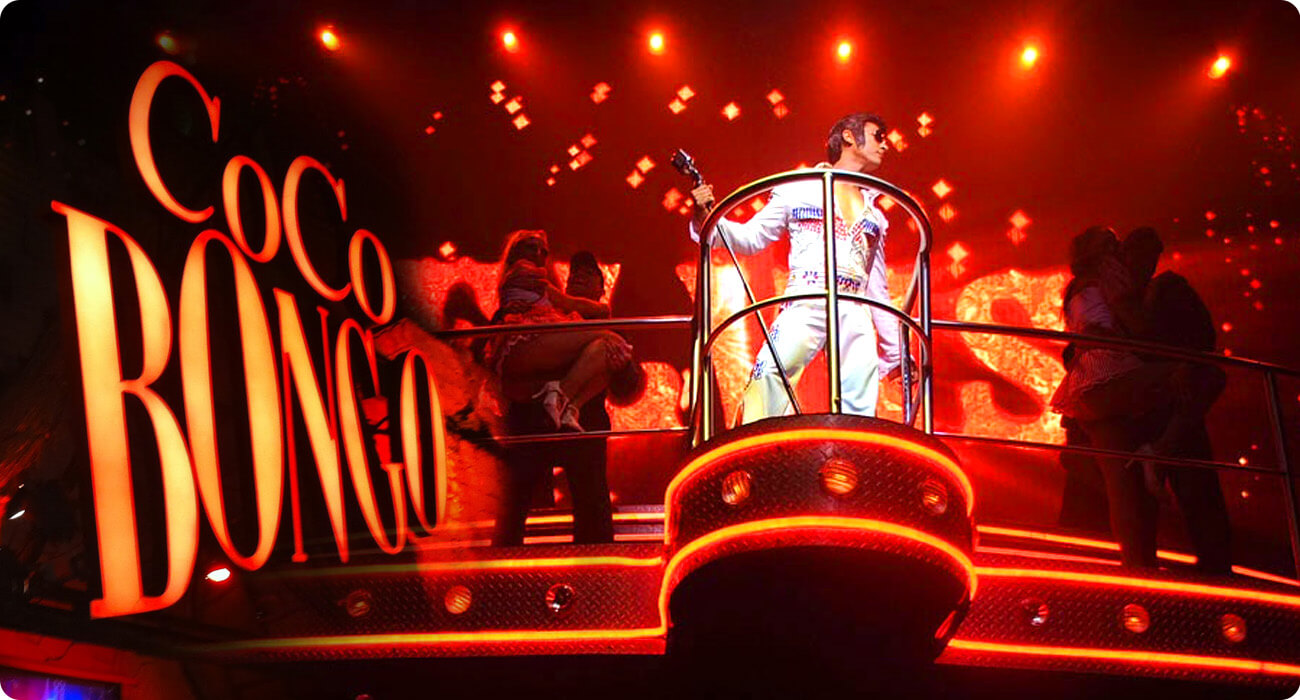 Coco Bongo Club, Punta Cana
Another one is in Hardrock Café hotel – ORO Nightclub. This place was our taste of place what we like. Miami or Vegas type of club and casino in one huge building. The great thing in Dominican Republic is, that usually for 60 or 70 USD clubs give you an open bar ticket and you can drink almost what you want, so it's quite advantageous :-).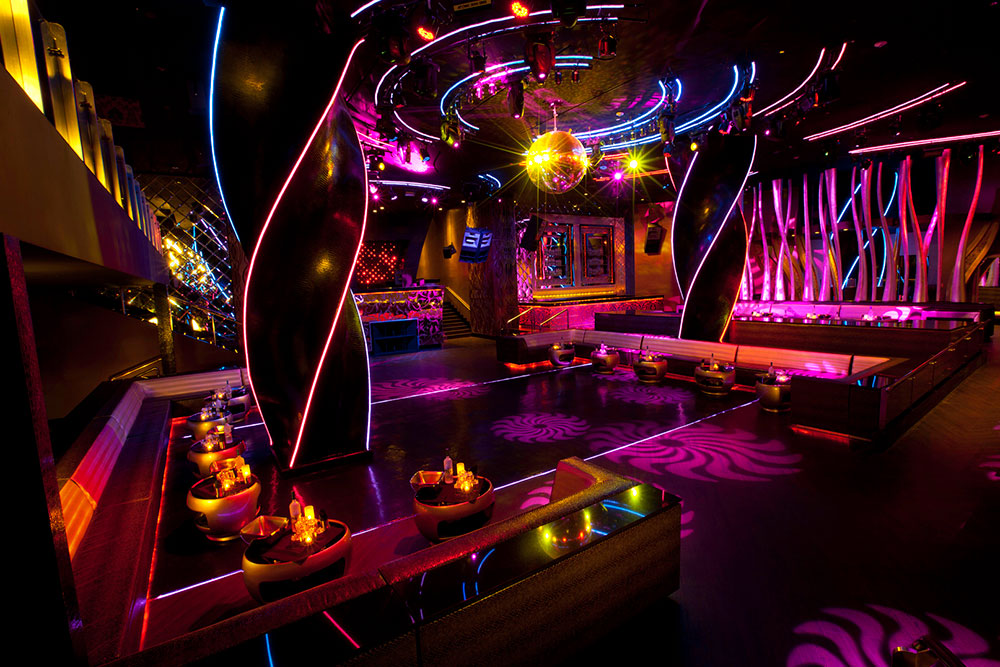 Oro night club in Hard rock café hotel, Punta Cana
The last one, which we have visited, was Imagine club – it was really interesting because it was built in a real huge cave.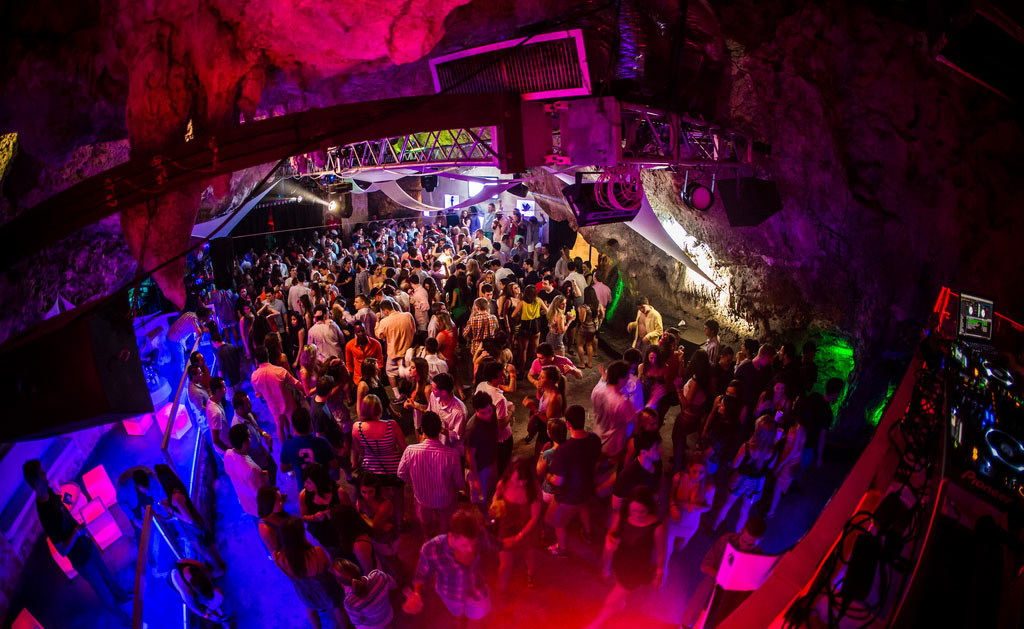 Imagine club located in the real cave, Punta Cana
Beaches in Punta Cana
Beaches are here, in Punta Cana, beautiful everywhere, but if you're already bored by Bavaro beach and you have a car you can go to Playa Macao which is smaller and good for surfing and also "muy bonita". It takes from Bavaro 20 minutes by car.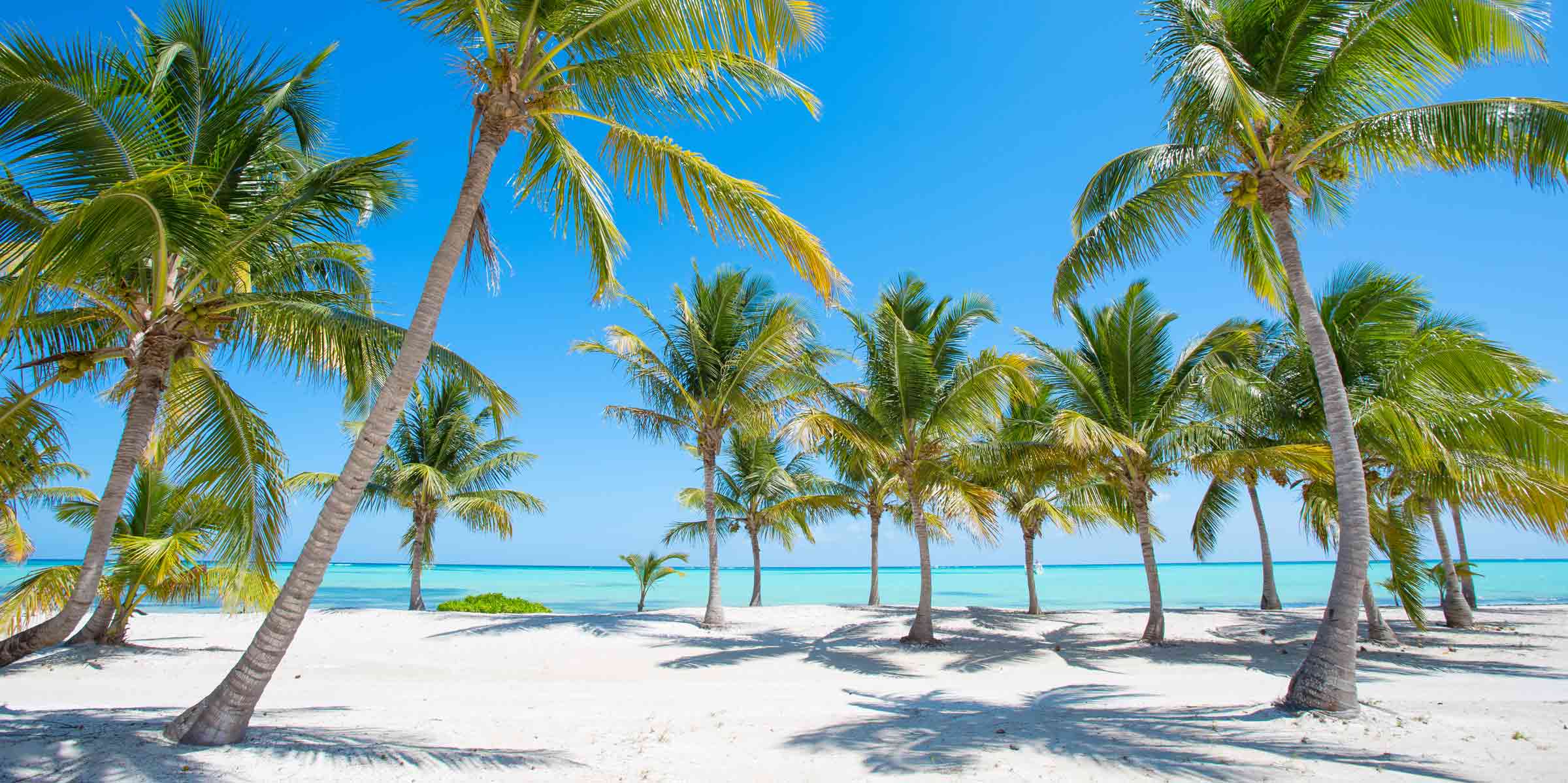 Bavaro beach, Punta Cana Pla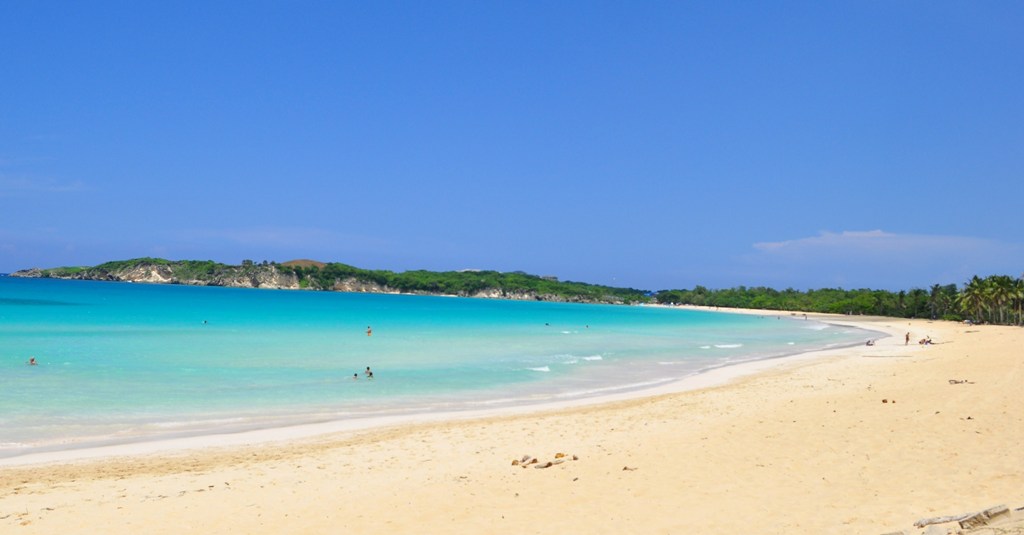 Playa Macao, Punta Cana
What I definitely recommend is to go for a trip to the tropical Isla Saona. This island is located a short distance from the mainland on the south-east tip of the Dominican Republic and it´s part of the Parque Nacional del Este. The beauty of beaches and nature are famous and well-known from many movies and advertisements.
The island has no hotels so you can´t stay overnight there (unless you became friends with the locals living in the village Mano Juan and stay in their house :-)). There are totally only about 300 of inhabitants in Isla Saona.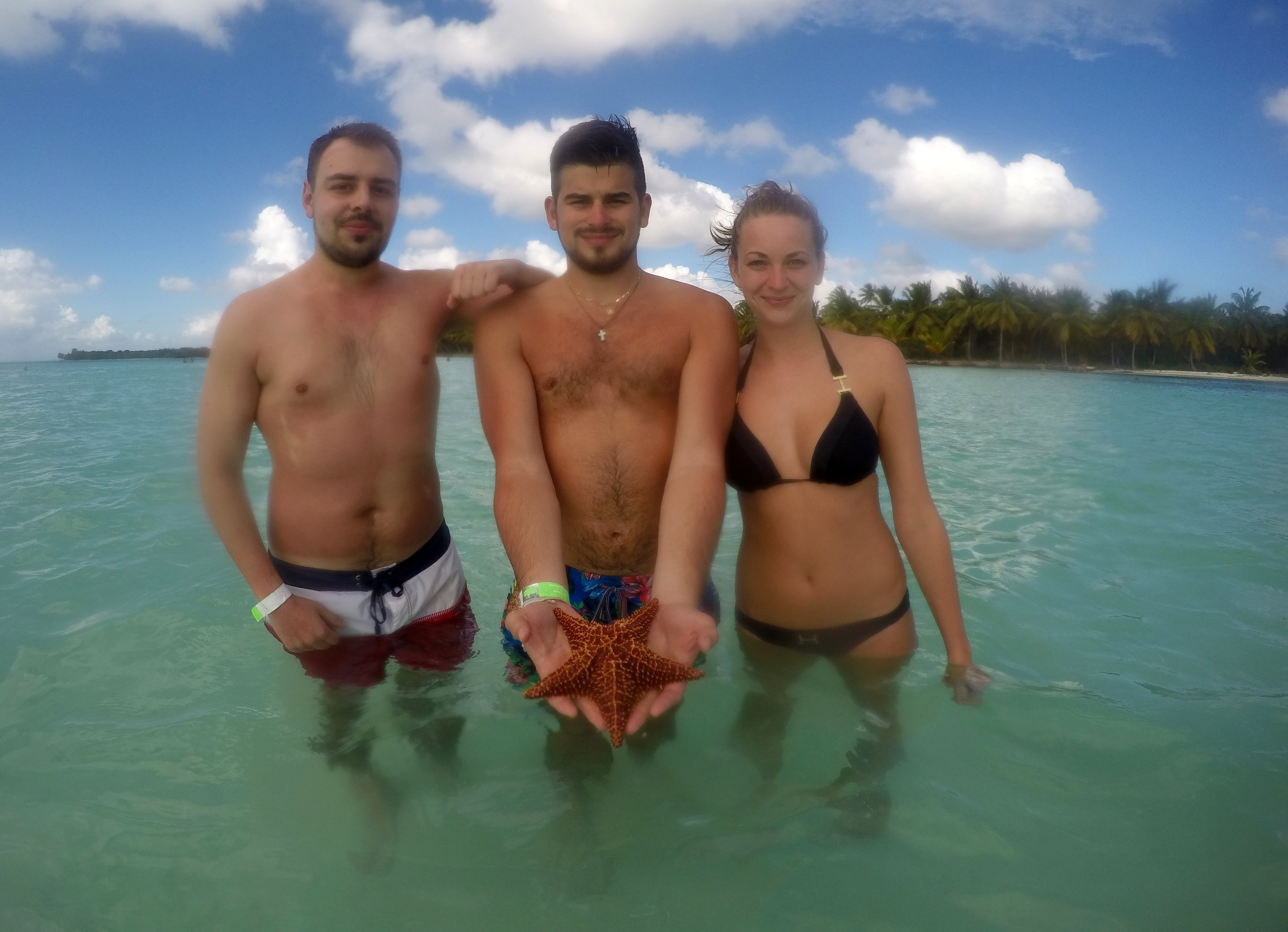 In island Saona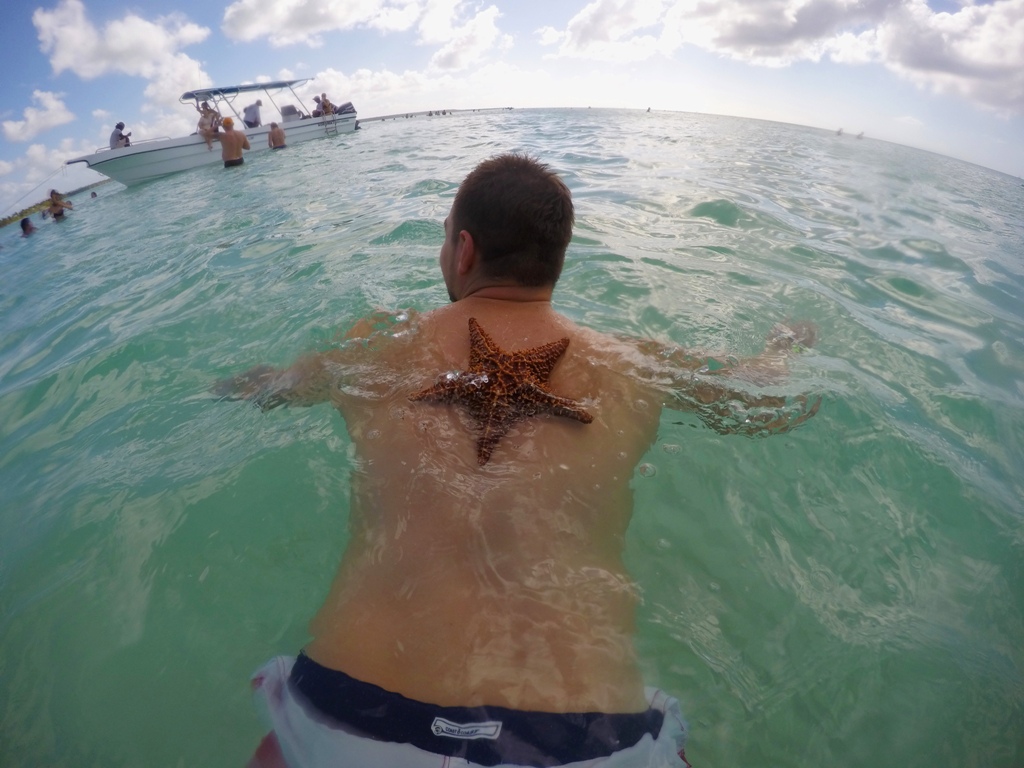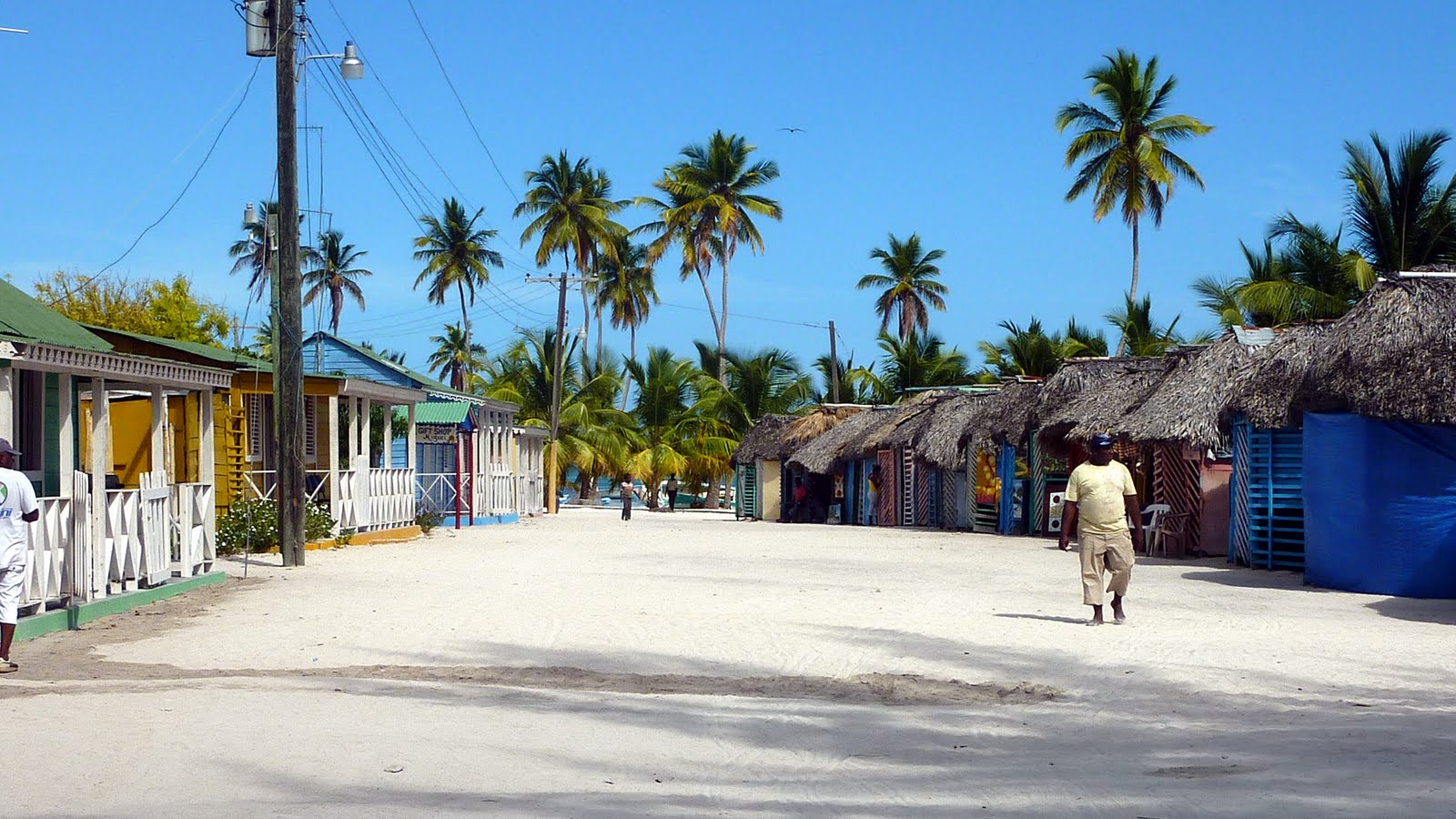 The village Mano Juan in Island Saona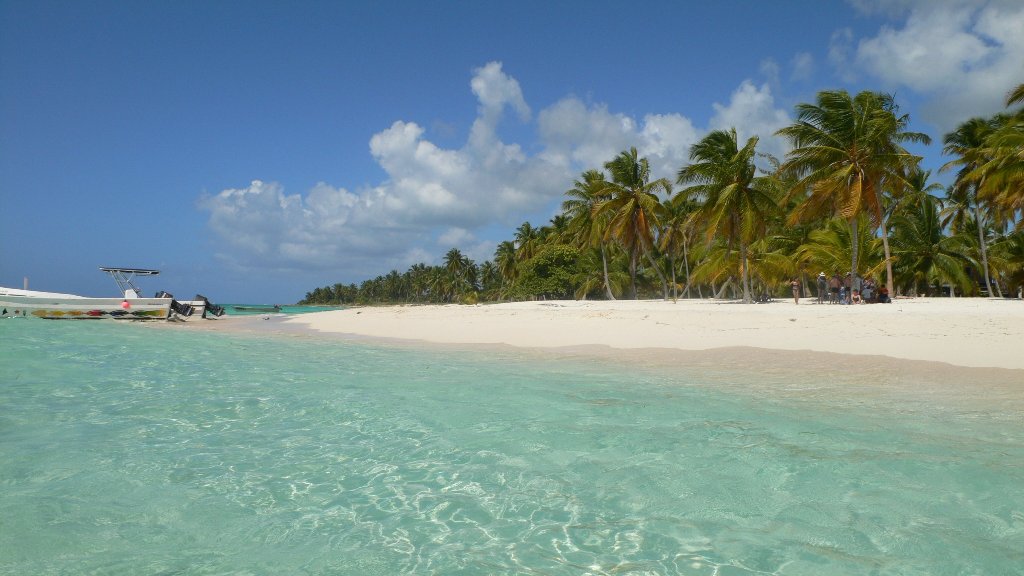 The Island Saona
If I compare Santo Domingo and Punta Cana, it's absolutely something different. But definitely you should see both places because If you go only to Punta Cana, you will know nothing about Dominican Republic. You won´t see anything what will scare you, impress you.... whatever. Only you may be surprised that all security guys are walking with their shotguns like if they hold a toy. :)
---
You may also like
---