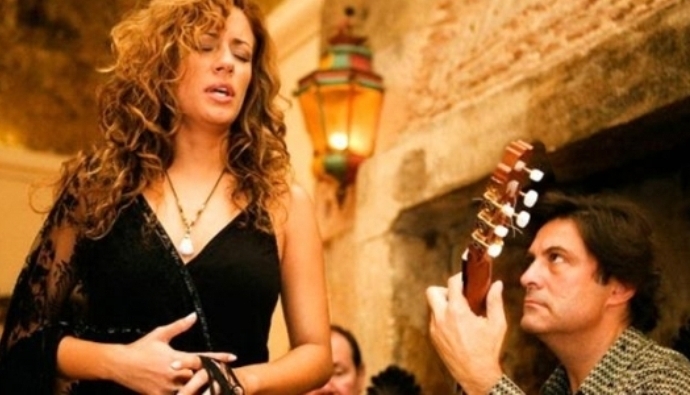 14Jan2016
3 nights in Lisbon: Dinner in the fado rhythm
Written byRenata Jirasova14 Jan. 2016
Guide books say that Lisbon is one of the most beautiful cities in Europe and is often considered a hidden gem. After my visit I say: it is the truth but Lisbon isn´t for everybody. If you like luxurious, glossy cities definitely don´t go there!
First of all this city is a great destination for lovers of nostalgia, retro and light decadence. You will see there baroque buildings falling into disrepair, dusty small shops squeezed into modern shopping malls or historical trams going through narrow streets. But if you are a sightseeing enthusiast or/and fresh fish lover you will feel here like in absolute paradise!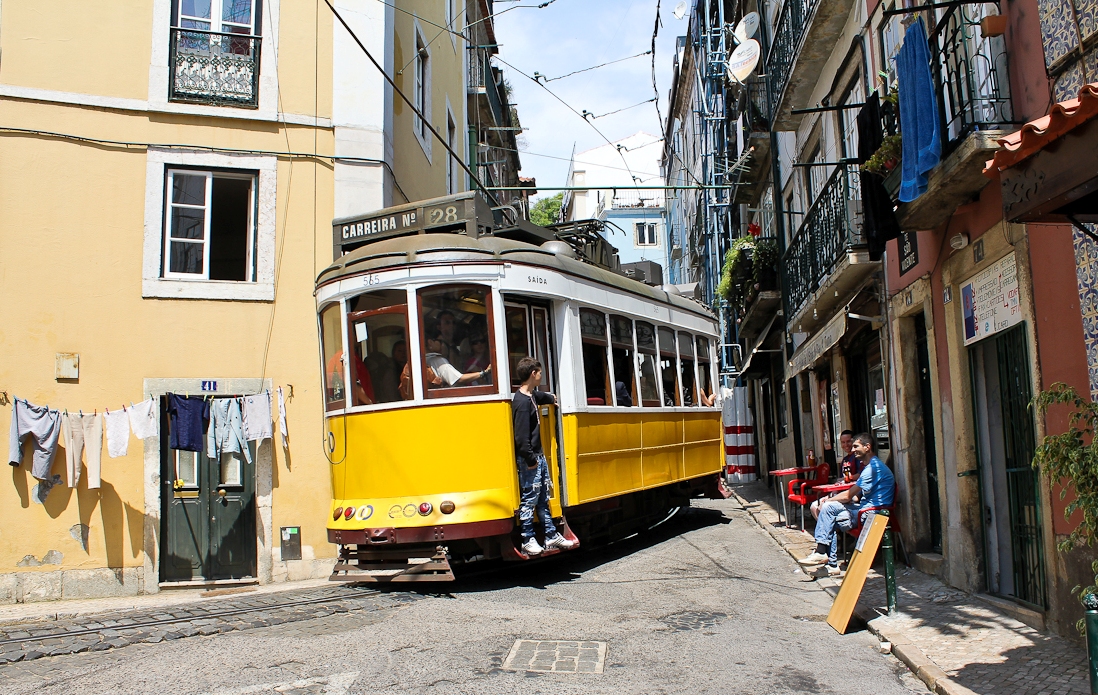 The must-see attraction is St. George Castle located on the hill above the Lisbon. Save your energy and go there by yellow tram no.28. Although the tram is always very crowded, it is a real experience go up through the zig-zag, steep and narrow streets.
Lisbon is inseparably connected with folk, traditional music called fado. And about my fado experience combined with Portuguese cuisine I am going to talk now :-).
The dining in Lisbon is definitely a unique experience if you love seafood. Quality and taste of fish dishes in any restaurant is unrivalled in comparison with other European countries (in my opinion only fish in Cape Verde have such wonderful taste and the same quality but this coutry is located already in Africa). Even if you aren´t crazy about folk music you shouldn´t miss to visit one of the traditional pubs in Alfama district where you can listen live fado music during your dinner. This way you can reveal the real feelings of the Portugueses. In this music is everything – their glorious history, their fate, sorrow and nostalgia.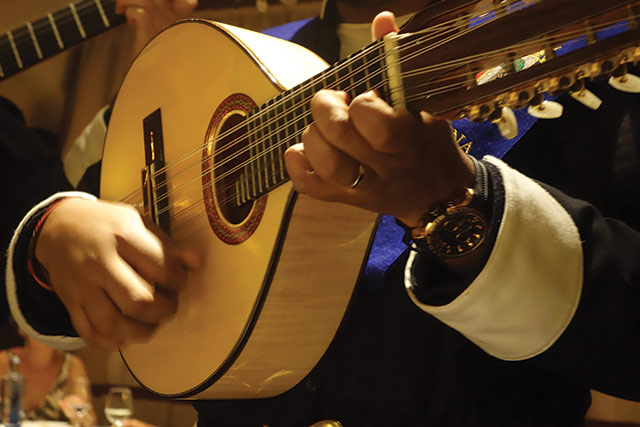 The traditional Portuguese guitar for playing of fado
I loved dinner and friendly, cosy atmosphere in the small family tavern Sr. Fado de Alfama owned by fado singer Ana Marina and fado violinist Duarte Santos. Ana is also a great cook and Duarte a very nice, attentive waiter. At 8 pm Duart starts serving traditional Portuguese dishes (seafood, rise, local wine...) for guests (mostly international mix of people from many countries) and around 10 pm, when all guests finish eating, Ana Marina with a fado band starts singing.
The capacity of this restaurant is just about 22-24 seats and it is always full so early booking is necessary!
The atmosphere after dinner in Sr. Fado de Alfama: the cook and singer Ana Marina singing one of the fado songs.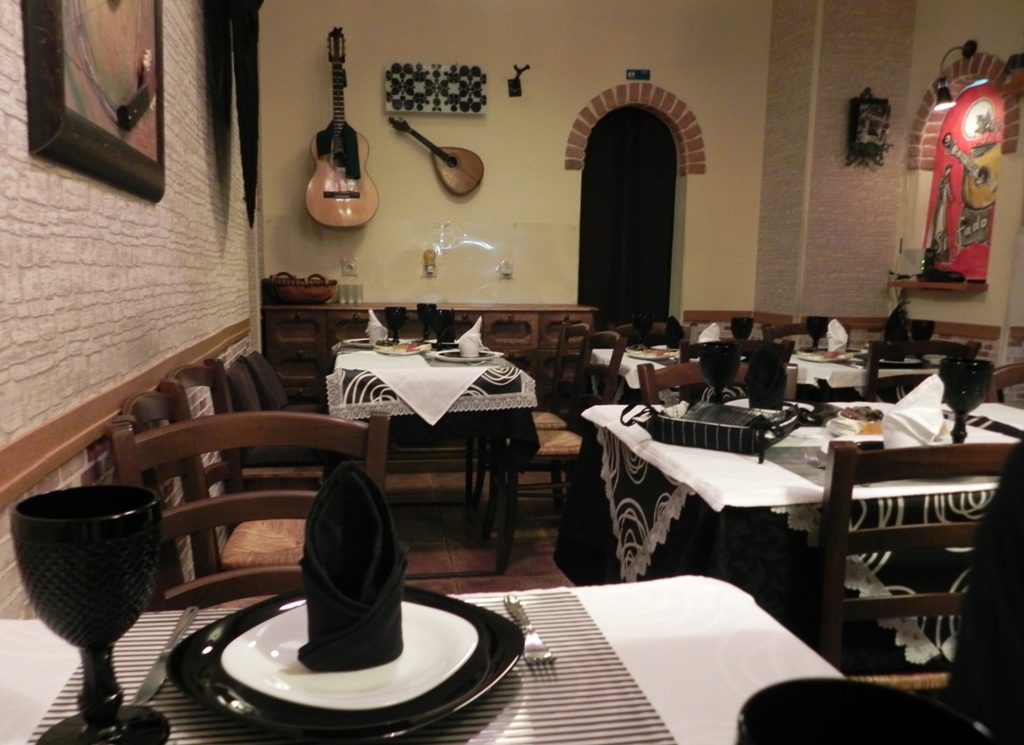 The cosy atmosphere of the family restaurant Sr. Fado de Alfama just before dinner.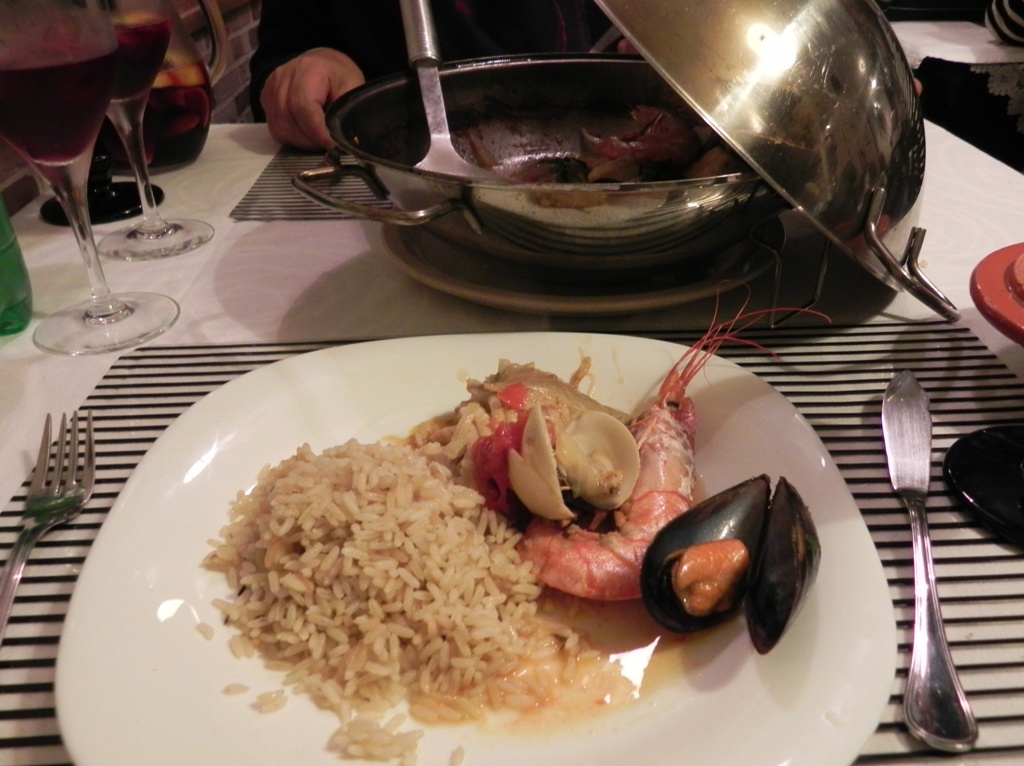 The traditional home-made, delicious dish in Sr. Fado de Alfama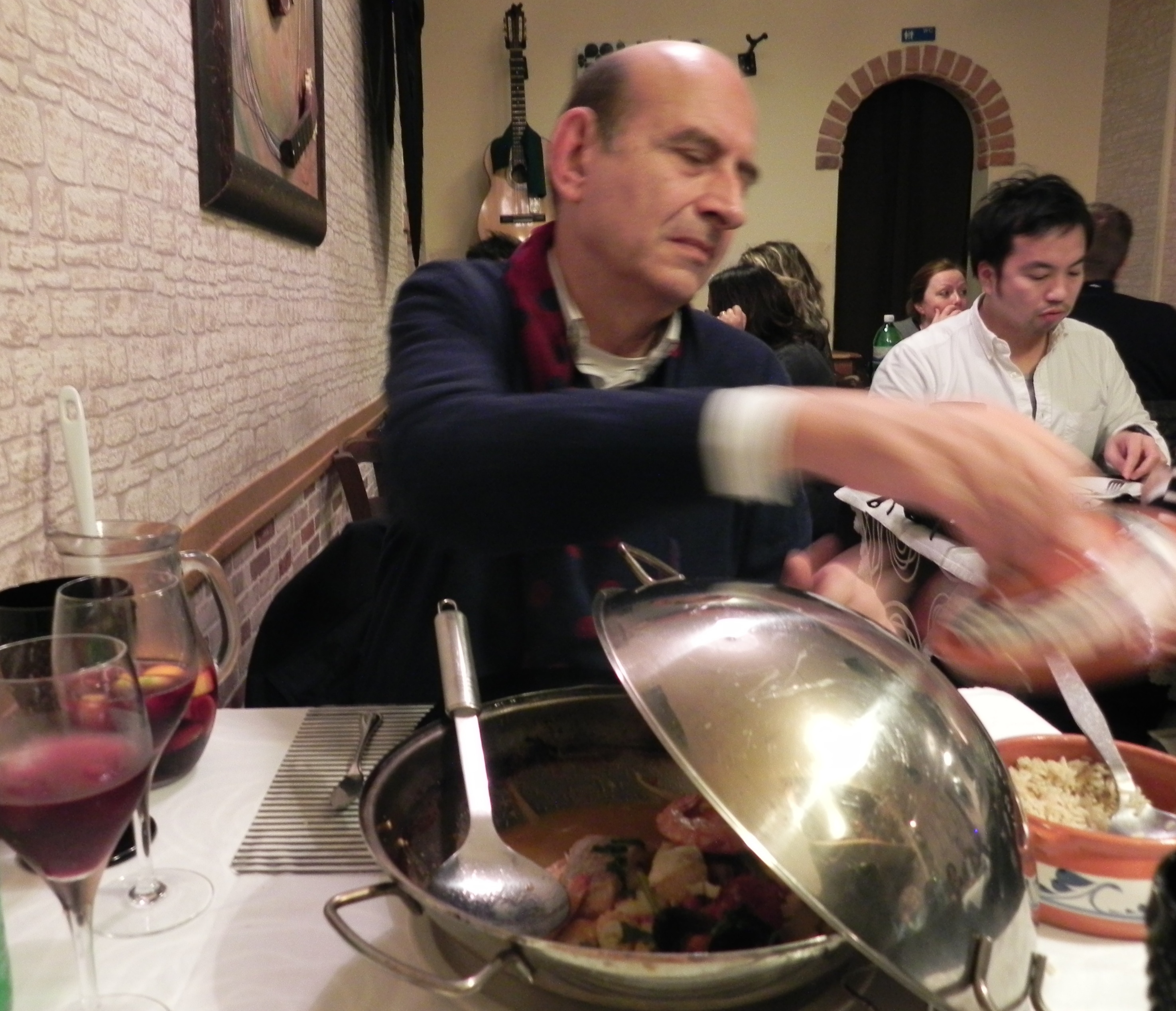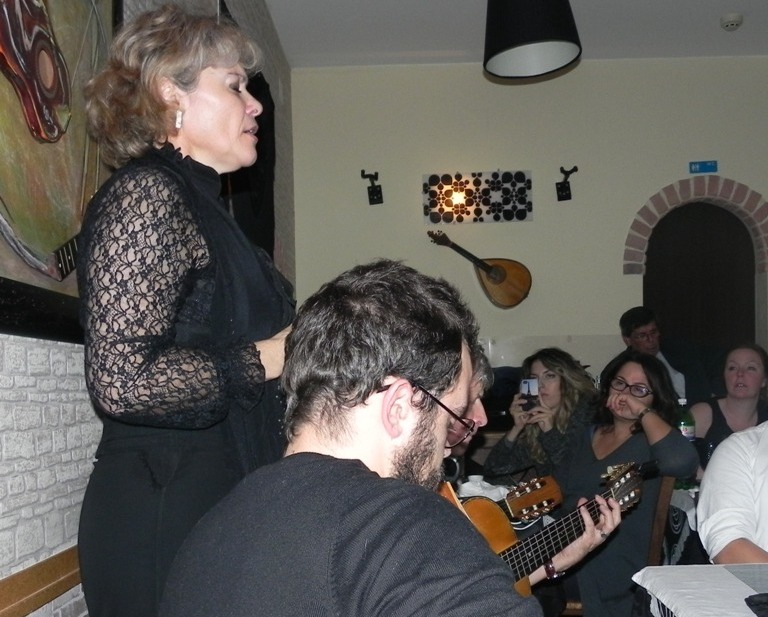 After dinner, Ana Marina and her guitar band in action :-)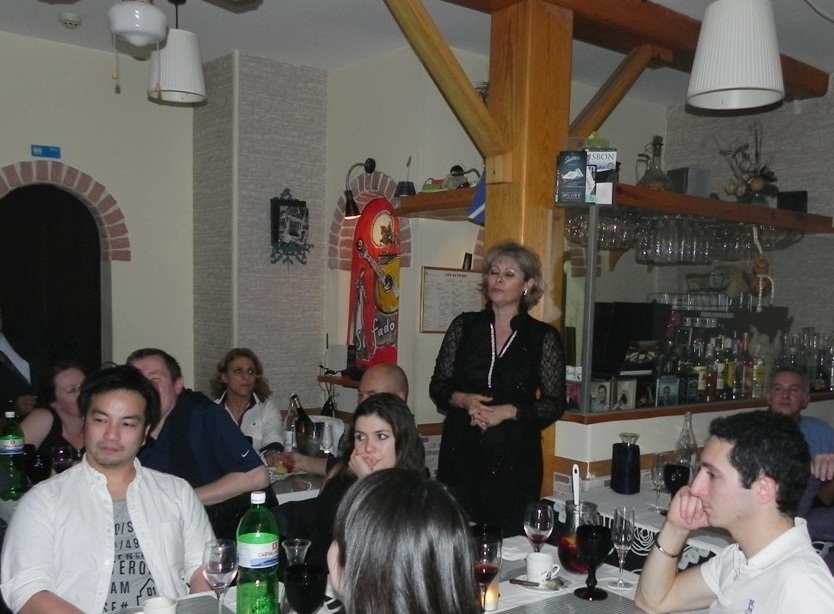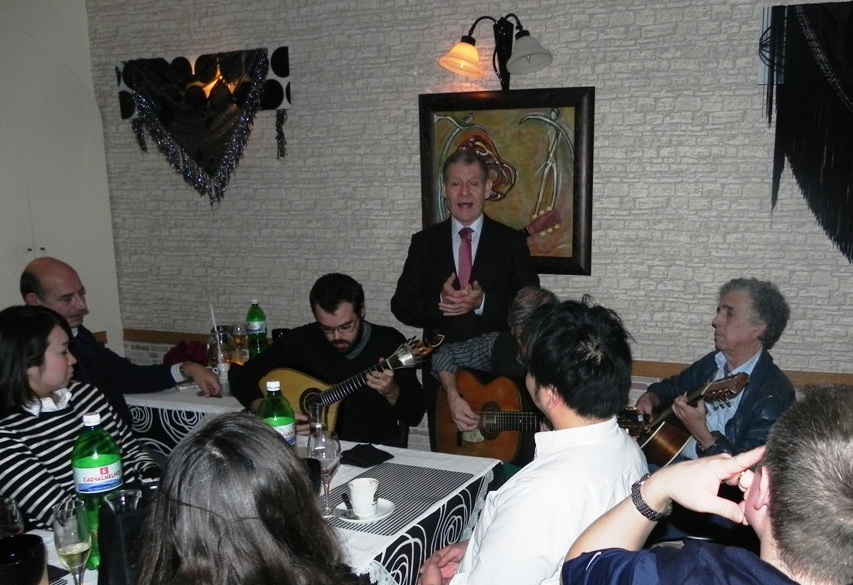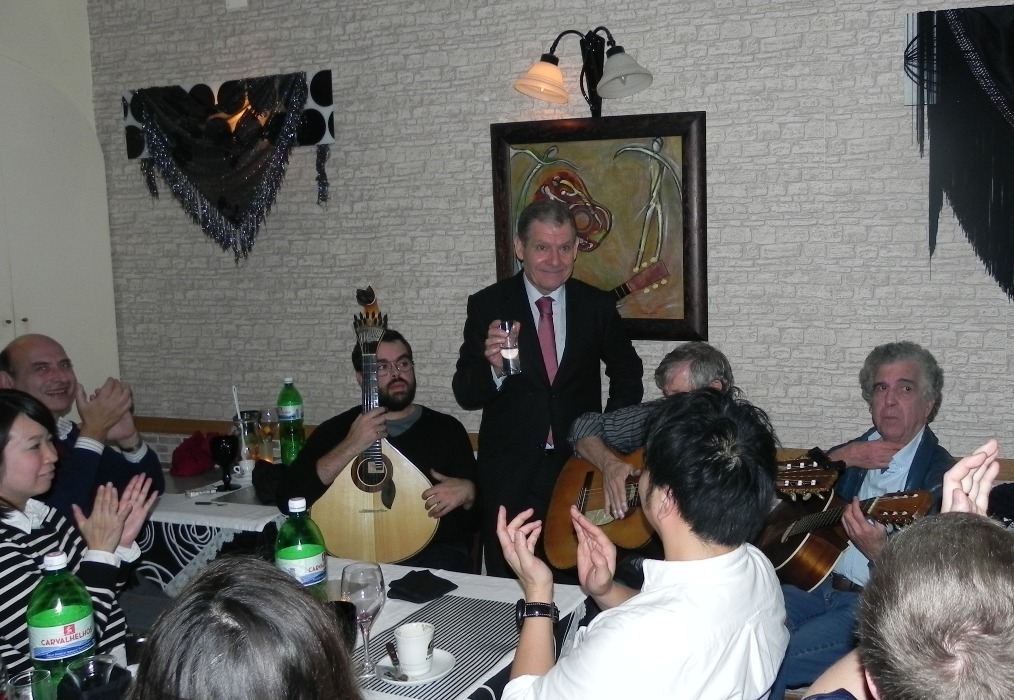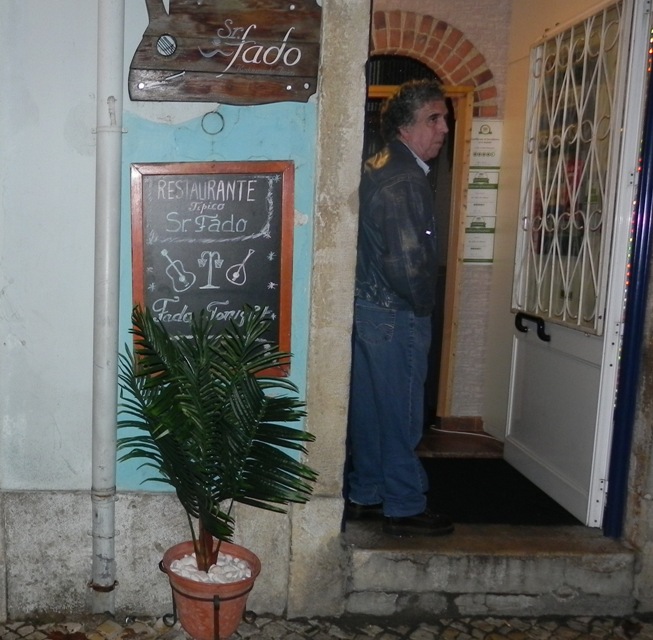 The entrance of the restaurant Sr. Fado de Alfama
What does "fado" mean?
"Portugal sings when it has the desire to cry" – by this statement is possible to characterize fado singing accompanied by guitar, which embodies the long tradition of Portuguese folk music and poetry. Fado is a very melancholic, emotionally colored style, reminiscent of the blues, but especially music ballad forms from Afro-Brazilian origin. Fado reflects what is called in Portuguese "saudade" - a sort of melancholy, nostalgia and fate combined with fatalism. Other topics are unhappy love, social injustice, sea and hard work of fishermen and workers.
Fado ("fate", "destiny") was founded in the 20´s of the 19th century in the poor neighborhoods of Lisbon, but thematically follows the glorious past of Portugal, when a large part of the world belonged to the Portuguese; the period when from the estuary of the River Tagus sailed dozens of boats on discovery tours. Melancholy of faded glory is typical for Portugal till now.
And the last interesting note: In 2011 Fado was inscribed in the UNESCO Cultural Heritage Lists.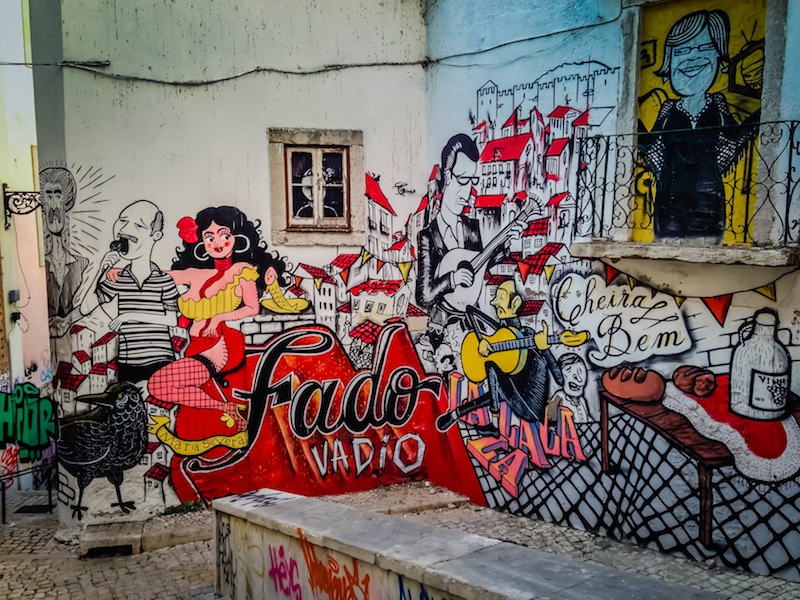 Graffiti on the Lisbon wall, close to the St. George Castle
---
---