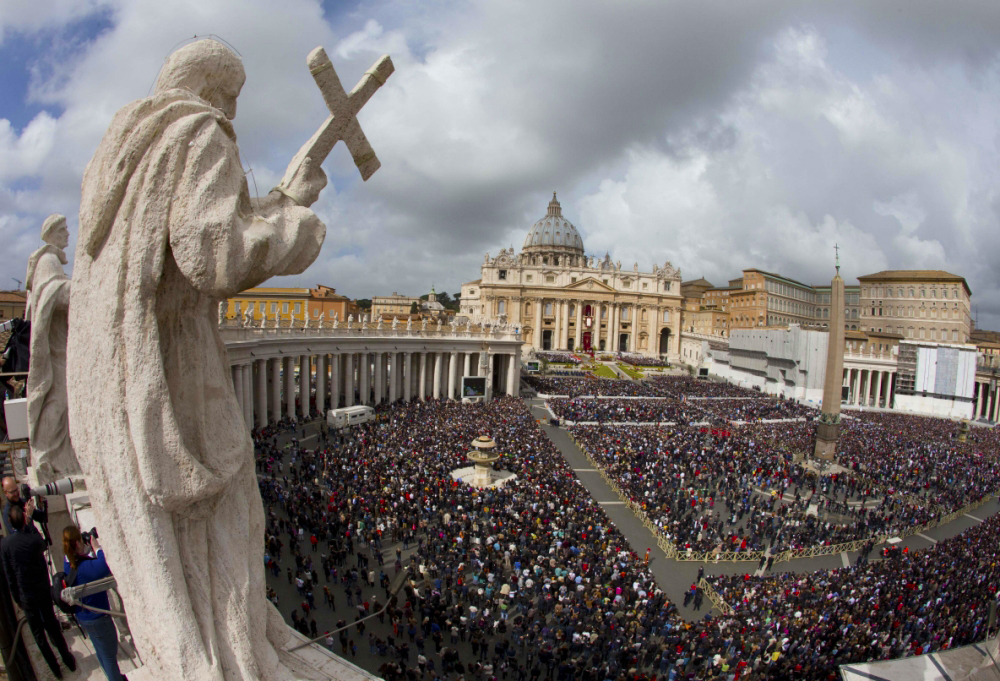 24Apr2016
Many Faces and Paradoxes of Rome
Written byRenata Jirasova24 Apr. 2016
Rome is a city of many faces and paradoxes. It is a fascinating place for tourists-lovers of history, Italian fashion and cuisine but it is an uncomfortable city for living.
Chaos, noise, unremitting traffic, crowds of people from everywhere, harmless but annoying illegal street-vendors from Nigeria, Senegal, Bangladesh... currently selling usually "selfie" telescoping rods for smartphones, roses or umbrellas (when it is raining)..., gypsy gangs of beggars & pickpockets (mainly at Termini and Tiburtina train stations), African immigrants and homeless people sleeping on the streets... This culture shock feels every perceptive person who visits Rome.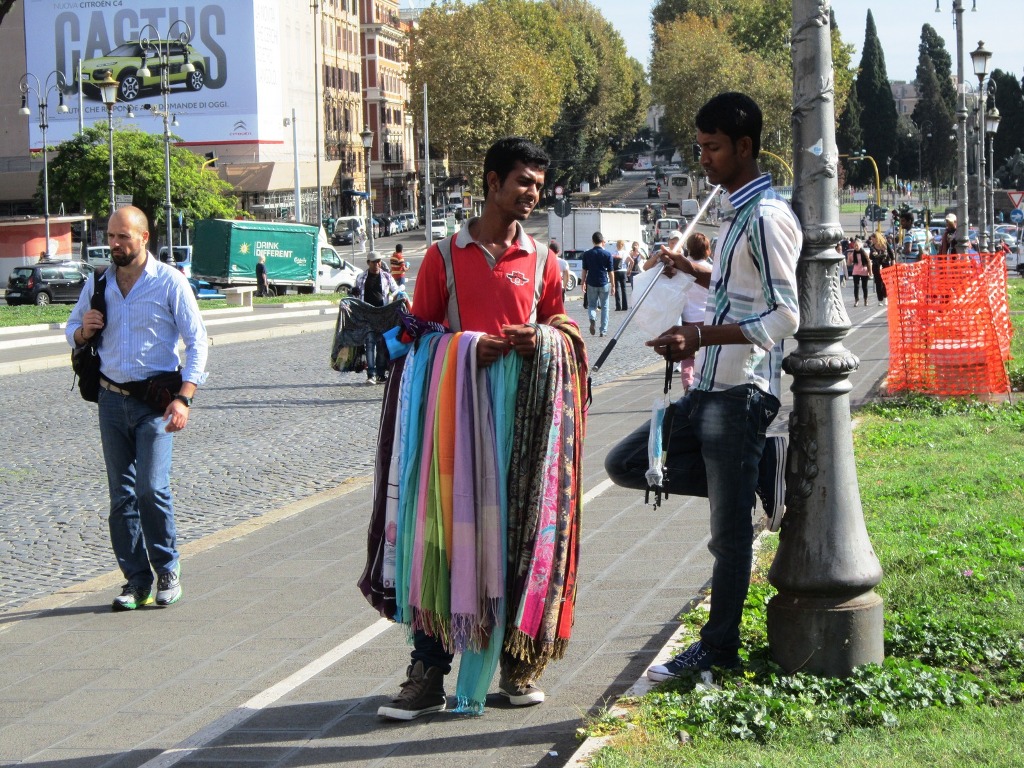 Street-vendors selling scarfs and selfie telescopic rods for smartphones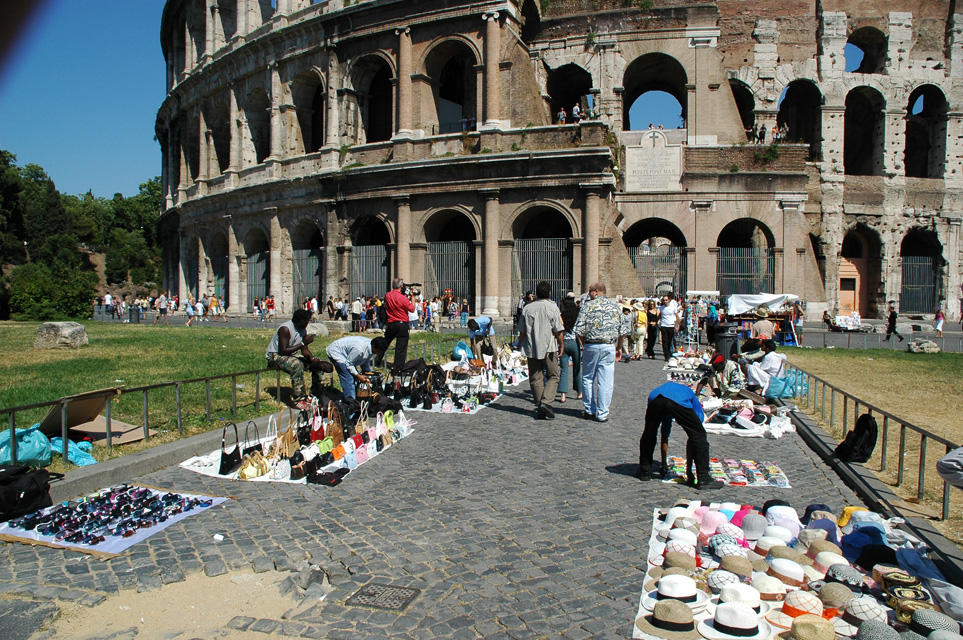 Ilegal vendors in front of Colloseum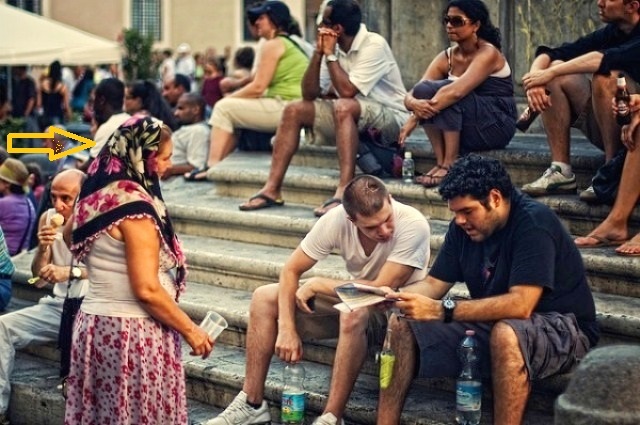 A gypsy woman a member of "a professional gang" of beggars and pickpockets at Spanish steps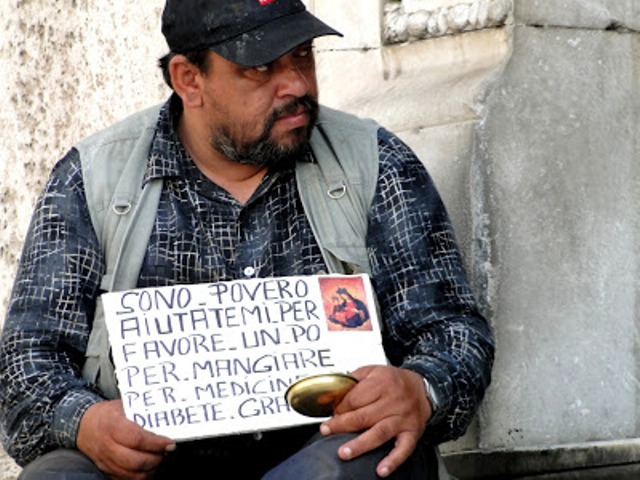 "A professional beggar" in front of the church in the Piazza del Popolo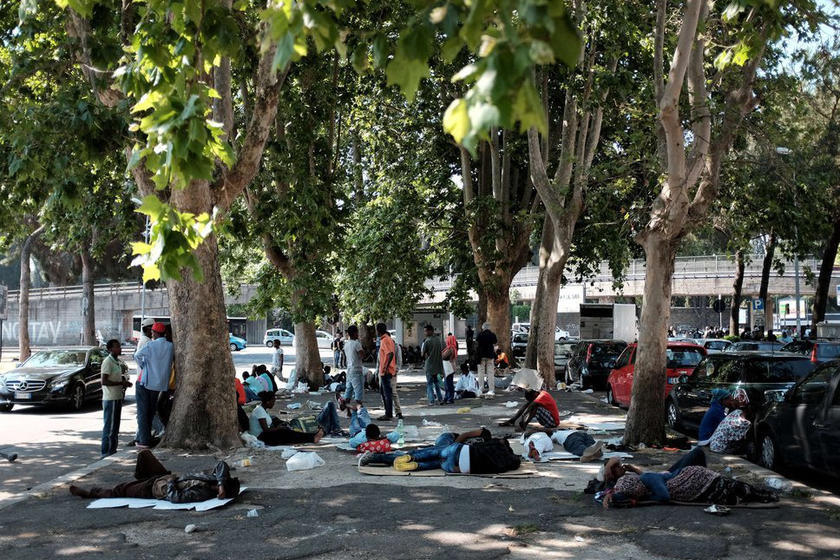 African immigrants sleeping in a park near Termini train station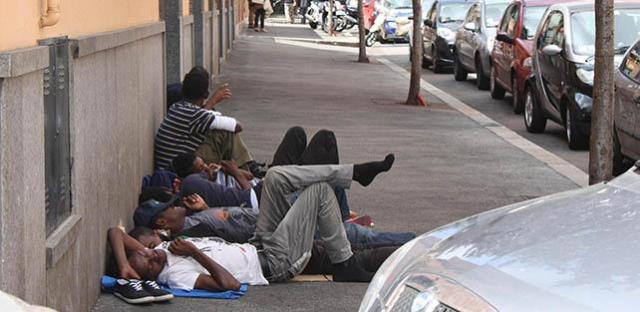 African immigrants-homelesses in Rome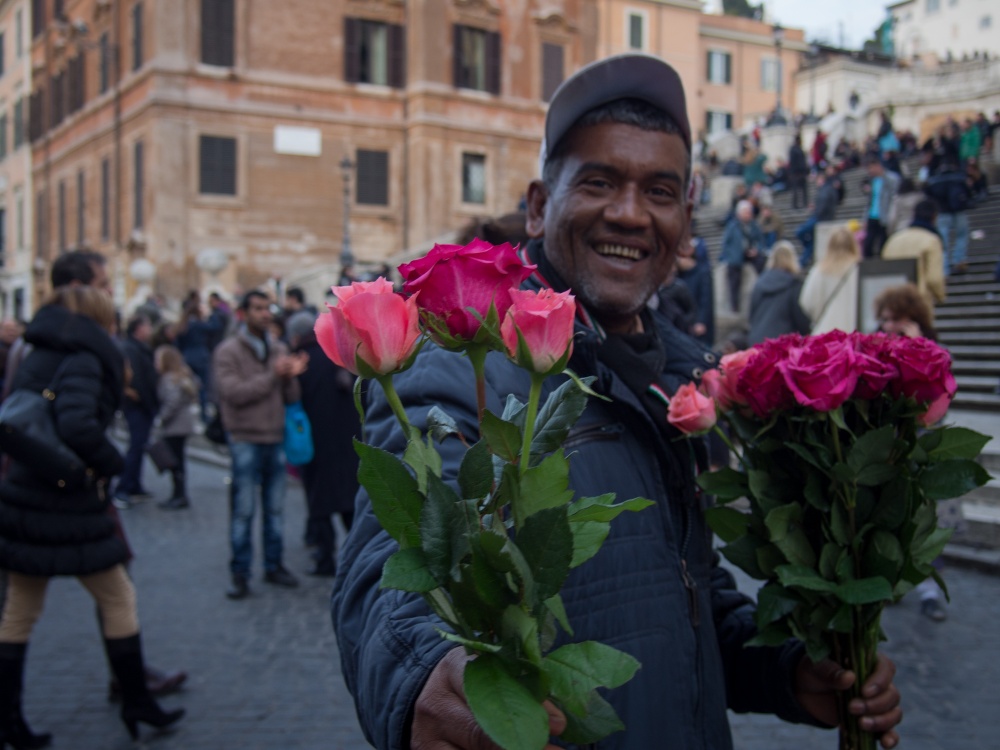 A street-vendor at Spanish steps
But Rome has also a "light side" and many different faces, incomparable in the world.
You can explore the "Ancient Rome" and its imperial ruines; the "Elegant Rome" - streets full of fashion shops, cosy coffee bars and Italians dressed in brand-name clothes. Or the "Spiritual Rome" and its Vatican, impressive churches and fascinating history.
Rome also can be proudly called as the "City of the most beautiful Fountains of the world" (beside the most famous Salvi and Bernini´s Baroque masterpiece - the "Fontana di Trevi" and the "Fountain of the Four rivers" at Piazza Navona I can mention e.g. the lovely "Fontana della Barcaccia" at Piazza di Spagna or "Fontane delle Tartarughe").
Italians half-jokingly and half seriously say that "Africa starts from Rome downwards". The rest of Europe above Rome is "the North" for them. And they are not far from the truth.
I have visited Rome countless times and had opportunity to experience the hardships of everyday life which tourists usually don´t discover. I was surprised how many things, I consider to be automatic, don´t work here (probably I am spoiled by Prague where I live).
Here are 9 examples:
1. Public transport
There are no timetables on bus stations. If you want to know what time a bus will (potentially :-)) arrive you have to check a timetable on Internet but anyway you never know if the bus actually arrives because it may get stuck in a traffic jam. Delay of 30 minutes is common. Sometimes the bus doesn´t appear at all.
2. Roman subway
It is a panishment to travel by metro in summer. There are just some air-conditioned coaches in the line A. If you have a bad luck or you need to travel by line B or C you have to suffer from incredible hot. When I saw tired, red faces of Italians in boiling metro in August travelling to work I regretted them. The air in our Prague metro is always cool even if it is a tropical weather in summer.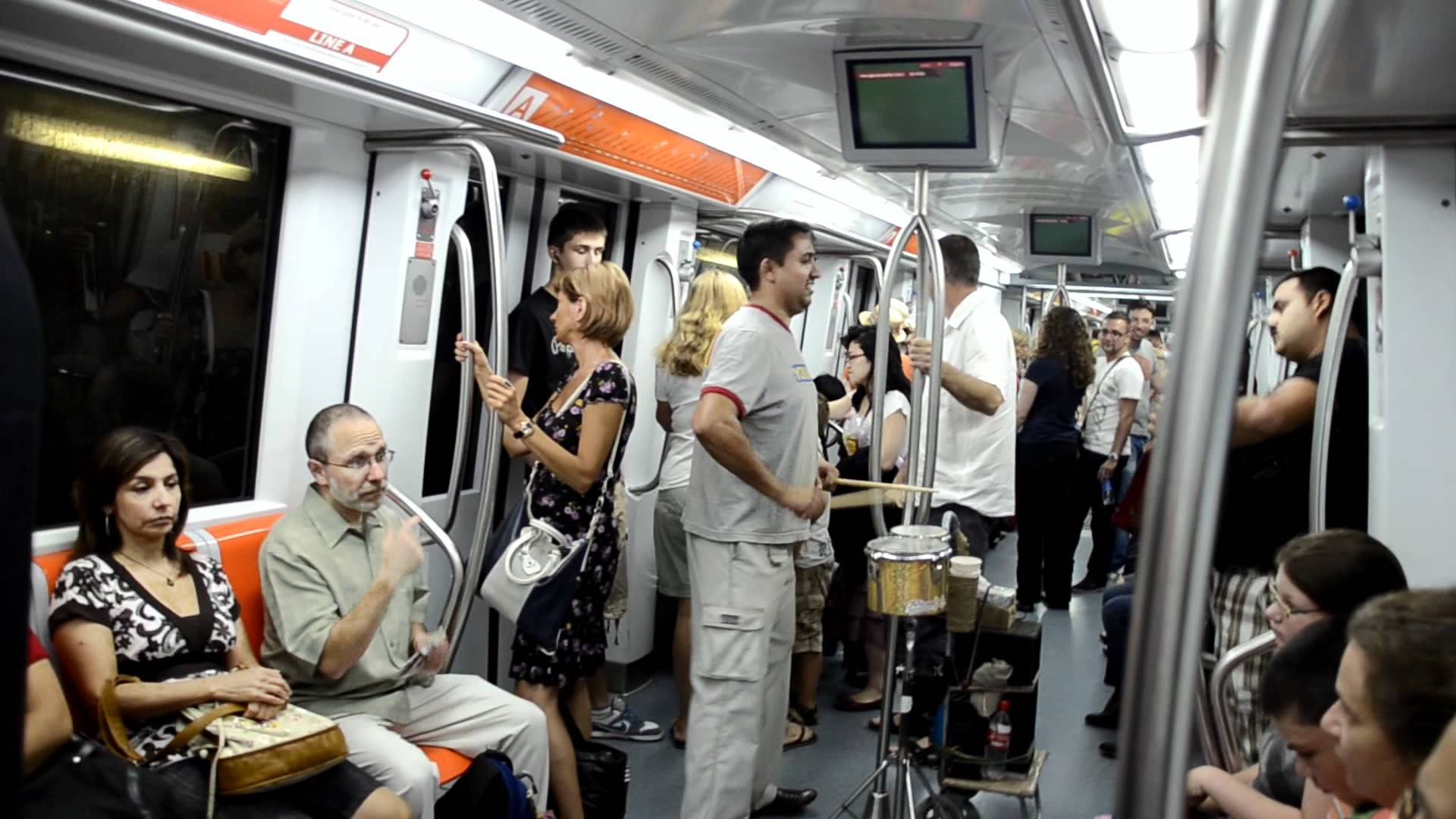 A modern, air-conditioned interior of a subway wagon in line A, Rome (other lines aren´t usually air-conditioned).
3. Driving in Rome
Italians rarely use blinkers, also lights use only when they want. They drive energetically and aggressively but surprisingly usually without any serious accidents (We-Czechs are calmer drivers but anyway we have more numbers of accidents in Prague).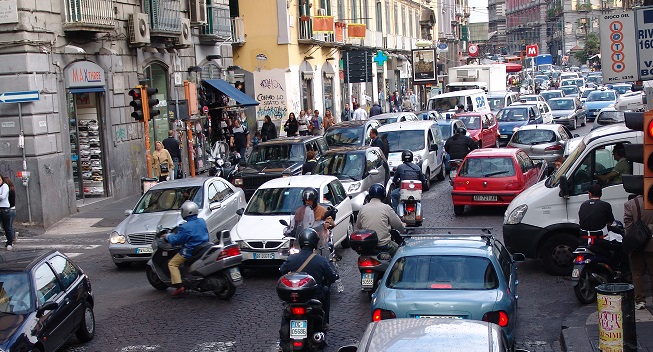 A crazy but typical traffic in Rome
4. Waiting in a queue
It is difficult to see an orderly line in Rome (and generally everywhere in Italy). If Italians wait (in shops or anywhere else) it isn´t a line! It is a crowd of people :-). I like to respect a personal zone (to let a small break between myself and another person) but in Italy it is almost impossible. If I do immediately someone else will jump in front of you (it is a habit especially of older ladies 60+ - maybe they are convinced that they should have a priority :-)).
5. Language skills of Italians
Not many Italians speak English or by other languages but if you ask them something and use a few Italian words all are very willing to advise and help you.
Many restaurants keep a siesta. It means they close at 14:30 and open at 19:30. If you are hungry around 18:00 (my typical problem) – a bad luck! Since I am spoiled from Prague where everyone can eat when he/she wants – it is difficult to keep this Italian food harmonogram.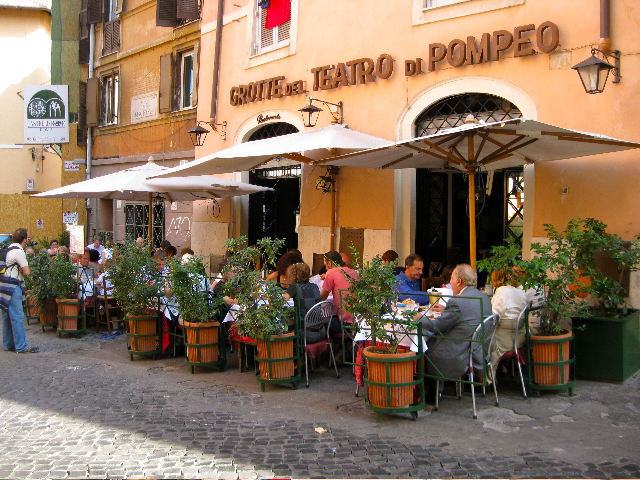 A typical Italian trattoria in Campo de Fiori, Rome
7. Shops
Rome is very traditional. On Sunday afternoon you have almost no chance to buy food in some shop.
8. Behaviour of Italians on a public place
Italians are very social. They are emotional. Cordial. Spontaneous. Talkative. And... loud. They don´t care that they are just on a public place and strange people who can listen them are nearby or among them. If they are together with group of friends nothing and nobody can stop their talk. Their conversation is sometimes so emotional that non-native speakers may think that they are arguing. But no... They don´t argue. They just naturally enjoy the life!
And here is the biggest surprise for me and a paradox:
9. Priority in the door
When I wanted to go out the narrow door of the monastery, the large crowd of retired ladies led by a guide (also an older lady) had aggressively pushed inwards. The guide told me that the old ladies have a priority in Italy and have the right to go inside the door first (doesn´t matter that people inside can´t go out).
I have never heard something like this (according to all social rules, from a practical reason, a priority have always people going out). So people who are inside and want to go out, will stay inside and let others to go in? Where is the logic? I think simply Italians enjoy crowds and mess :-).
Does anybody have an experience with something like this or any explanation? If so, I will be happy if you can share your opinion with us.
---
---